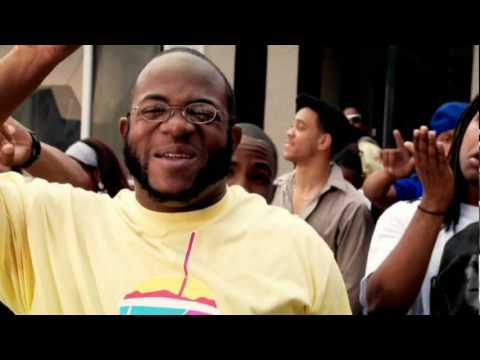 Hip-Hop Group League510 Brings Non-Stop House Party For New Video

From the first frame to the last, only one word can aptly describe the debut video from hip-hop group League510: par-tay. In this new school meets old school house party, there is not a single person without drink in hand, moving to the single "I'm On." While 40 oz. towers of Old English and St. Ides, army wear, shaved heads, and low-riders may have gone by the wayside, backyard BBQ and dominoes have stuck around. This very '2009' house party features the group rocking hot-colored threads and sippin' Patron, jug wine, and Corona (with a little Hennessey added for charm). But what makes the party more than anything is that you get a first-person perspective. The viewer takes on the role of the fashionably late friend, and by the time you arrive the entire place is bumpin'. Be sure to check out the video, along with the League510 track "I'm In."The Background:
Emcee's TK, Mont, Mr. Knowitall and DJ Blacksmith better known as League510 are pioneers of a sound that is all their own, Town Techno. With a sound that is out of this world, League510's musical journey began in a galaxy far away from ours. After traveling the universe for years, they entered our galaxy and our planet shortly thereafter. With sights on our world, the quartet chose to land in the hills east of Oakland, CA. After hiding their ship deep in the hills they approached this new town with great curiosity and were immediately amazed by the vibrant culture that they found. Adopting the Bay Area scene as their new home, League510 wasted no time in beginning their new musical journey here in our world. Using advanced abilities, the four emcees quickly mastered the art of sound and gave birth to Town Techo, a form of music that would unite the people in heightened awareness; to show them to take action, to appreciate the fun in life, to believe in themselves and to believe in The League.