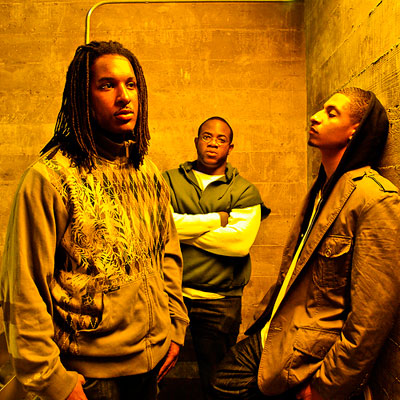 DOWNLOAD: League 510 – "I'm On" | Music Video
Each week, mtvU's Freshmen 5 competition gives viewers the power to determine which up-and-coming artist will have their music video injected into rotation on mtvU. Starting today, September 21, Clear Label Records group League510 goes toe-to-toe against four others with their new video, "I'm On." Equipped with a video sure to be right at home on a network directed towards kids on college campuses across the nation, League510's video which can only be described by one word: par-tay.
In this new school meets old school house party, there is not a single person without drink in hand, moving to the single "I'm On." While 40 oz. towers of Old English and St. Ides, army wear, shaved heads, and low-riders may have gone by the wayside, backyard BBQ and dominoes have stuck around. This very '2009' house party features the group rocking hot-colored threads and sippin' Patron, jug wine, and Corona (with a little Hennessey added for charm).
Now, with the fans' support, this Bay Area quartet will be given the opportunity to transform their epic house party into a national rager.
Voting begins Today, September 21 at 11:00am EST and closes at 2:00pm EST September 25. Fans can vote online at: http://freshmen.mtvu.com
The Background:
Emcee's TK, Mont, Mr. Knowitall and DJ Blacksmith better known as League510 are pioneers of a sound that is all their own, Town Techno. With a sound that is out of this world, League510's musical journey began in a galaxy far away from ours. After traveling the universe for years, they entered our galaxy and our planet shortly thereafter. With sights on our world, the quartet chose to land in the hills east of Oakland, CA. After hiding their ship deep in the hills they approached this new town with great curiosity and were immediately amazed by the vibrant culture that they found. Adopting the Bay Area scene as their new home, League510 wasted no time in beginning their new musical journey here in our world. Using advanced abilities, the four emcees quickly mastered the art of sound and gave birth to Town Techo, a form of music that would unite the people in heightened awareness; to show them to take action, to appreciate the fun in life, to believe in themselves and to believe in The League.
About Clear Label Records:
Founded in Oakland, CA in 1999, Clear Label Records has established itself as one of the top independent labels in the Bay Area. The company is owned and operated by Tajai Massey, renowned recording artist with the group Souls of Mischief and the crew Hieroglyphics, who brings a unique perspective to the label utilizing his experiences as a major-label recording artist turned independent label owner & successful touring musician.Clear Label is home to recording artists of many genres such as Chris Marsol, Baby Jaymes, FamSyrk, Deep Rooted, League510, and more. Through a partnership with Pushing the Beat (PTB) called ClearBeat, the label is also home to Oakland's hottest street artists including Beeda Weeda, Shady Nate, D-Lo, Sleepy D and others. Look for full-length releases from all of these artists in the near future.For more information, please visithttp://www.clearlabelrecords.com