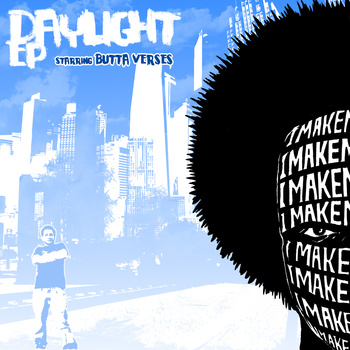 DOWNLOAD: IMAKEMADBEATS – Daylight Free EP
PR:
Producer IMAKEMADBEATS, who calls both Memphis and Orlando home, is proud to release the free EP Daylight as the first half of his dual-EP concept album Daylight/Nightlight. Daylight/Nightlight takes a deep and honest look at the duality of life, manifested through the stories delivered by collaborators Butta Verses (the man behind Daylight's lyrical duties who's best known for his previous collaborative work with De La Soul), and Midaz The Beast, the voice of Nightlight. While the two EPs are being released separately in a radio edited digital format, IMAKEMADBEATS and Doxside Music Group will later release both for sale together in an unedited physical format.
Daylight finds Butta Verses introspectively assessing his life while addressing the positive changes he knows he must make. No stranger to life's temptations, the Ft. Lauderdale-based emcee is aided by an emotionally charged, soulful IMAKEMADBEATS soundtrack, featuring piano, organ, and guest vocals that figuratively (and sometimes literally) take listeners to church. Songs like "Join Me" and "Awake" explore a more vibrant and upbeat sound, echoing the daylight theme. Later in the EP, slower, more introspective songs like "Hopeless" and "How is Your Soul" fade to darker colors as they approach Nightlight.
Following the dual-EP, IMAKEMADBEATS will drop his self-titled solo debut, featuring Black Milk, Von Pea of Tanya Morgan, Butta Verses, Hezekiah, and more on Doxside Music Group.