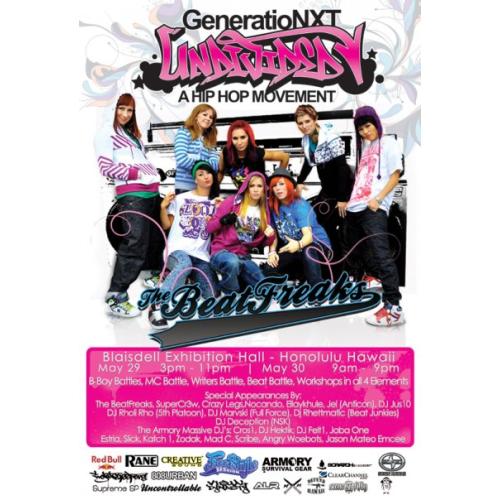 Undivided, A Hip Hop Movement, is the FIRST hip hop international convention ever conducted of its' caliber in the state of Hawaii. It is a two-day fun-filled educational event that brings together the 4 pillars of hip hop: emceeeing, breakdancing, graf writing, and djing through a symposium of workshops, battles/competitions, an art gallery, live art demonstrations, a film festival, exhibitor booths, and live performances.
It is an event for all hip-hop enthusiasts of all ages in Hawaii that incorporates an educational component to our local communities about the hip-hop culture and most importantly to provide opportunities, artful direction and creative inspiration in the arts and culture of hip hop to our youths and young adults
Whether you want to learn about the culture from the people that has been there since its' inception like Crazy Legs of the New York Rocksteady Crew, or take workshops to learn how to DJ and produce music from Rhettmatic of the Beat Junkies, DJ Rholi Rho of 5th Plattoon, Scratch Academy LA, Jel of Anticon, and the Armory Massive DJ's – JABAone, Dj Hektik, DJ Felt1, and Cros1; or test your lyrical acuity from Emcees- Nocando and Ellay Khule;or watch world renowned graf artists like Estria, Slick, Scribe, Mad C, and Prime of 808 Urban demonstrate their artistic ability while working hand-in-hand with the youths; or partake in Hip Hop Theatre taught by the director of Youth Speaks San Diego, Jason Mateo; or attend and participate in dialogue with Weyland Southon of Hard Knock Radio at the hip hop film festival that showcases documentaries on global issues; or if you just want to see Super Crew and Beat Freaks perform, just to name a few… What ever it is you choose to do at the festival, you are sure to have a great time while learning about a culture that has inspired many.
Niel Blaisdell Exhibition Hall
Friday May 29, 2009
3:00 pm – 11:00 pm
Saturday May 30, 2009
9:00 am – 9:00 pm
Tickets Prices (PER DAY):
$20.00 General Admission
$18.00 Military (2 min) and Students w/ Valid Student ID
$15.00 Children Ages 4-12 Years Old
Free Children Ages 3 and under
***$30.00 2-Day Passes (2-Day passes can only be purchase at the Niel Blaisdell Box Office)
Workshops (PER DAY)
$5.00 Per Day Pass, Unlimited Workshop
*** Pre-registration is highly recommended. To pre-register visit: www.generationxt.org***
Address: Neal Blaidell Exhibition Hall
777 Ward Ave
Honolulu, HI 96814
Beginning Date: 05/29/2009
Ending Date: 05/30/2009