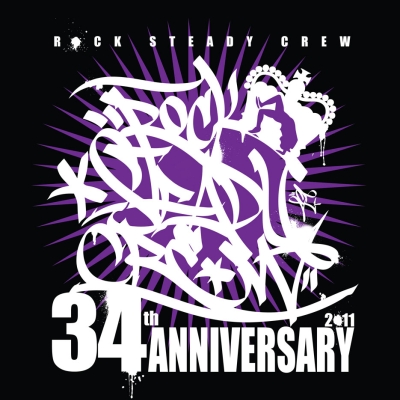 The Rock Steady Crew
34th Anniversary Events
Part 1: July 30 – 2:00-9:00pm
Red Bull Space (40 Thompson St, NY)
Rock Steady Crew Anniversary Battles – Crew and Solo. SPY AWARDS!
$15 in Advance Tickets until Friday, 07/29 at 11:50PM
$20 at the Door. ALL AGES!!!
Spy Awards presentations: to Teknyc, Dyzee and Lady Jules
Part 2: July 30 – 10:00pm-4:00am
Santos Party House (96 Lafayette, NY)
"Decades Of Dance" Rock Steady Crew After Party
Hustle Contest: Jeff Selby & Nicole Mercado & more
Judges: Willie Estrada, Steve Seda and "Hustle Legend" Nelly Cotto
$15 in Advance Ticlets until Friday, 07/29 at 11:50PM
$20 At The Door · 21 and Over
Celebrate Dance Styles That Made New York Famous!
DJ's: Tony Touch, Crazy Legs, Benji Candelario and Eddie B. Swift
Part 3: July 31 – 12:00-9:00pm
Lincoln Park (1 Lincoln @ Broad St & Lincoln Ave, Newark, NJ)
Free Outdoor Concert in association with Lincoln Park Music Festival! All ages!
Performances and appearances by: ?uestlove, EPMD, Keith Murray, Rahzel & DJ JS-1, Wise Intelligent, Neek the Exotic & Large Professor, Cold Crush Brothers, Jean Grae, Q-Unique, Evil Dee and many, many more!