Cassettes Won't Listen & Bisco Smith Release Lead Single From Concept EP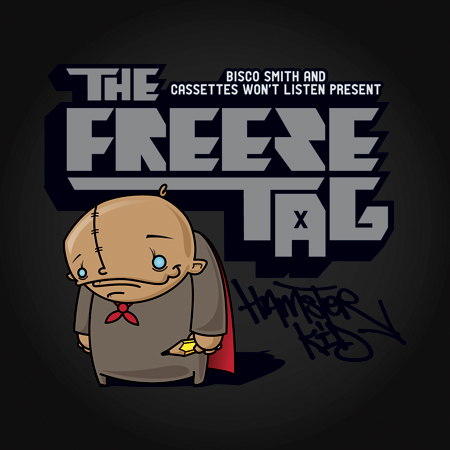 DOWNLOAD: The Freeze Tag – The Hustle
"Find what you love on the playground hustle." That's the central theme to The Freeze Tag's lead single, "The Hustle," and it's easier said than done. The Freeze Tag, comprised of L.A. producer Cassettes Won't Listen and Brooklyn MC Bisco Smith, are releasing the "The Hustle" as the lead single from their debut EP, Hamster Kid, a concept project that revolves around a young antihero named Hamster Kid and his journey through life's trials and society's tribulations. To bring the concept to life, CWL and Bisco tapped street artist Bishop 203 and director Mike Vidoli to create an animated music video for each song on Hamster Kid, which will be released through The Freeze Tag's label, Daylight Curfew, on ,May 3, 2011.
As the first song on The Freeze Tag's record, "The Hustle" incorporates pieces of the other songs on the album, and acts as a rough sketch of the situations Hamster Kid has to contend with along his journey. Each song's concept is illustrated within the video for "The Hustle", with corresponding video stills that can be seen on The Freeze Tag's website. While CWL's guitar-laced production wavers between ominous and inspirational, Bisco flows steadily over the beat with allegorical lyrics. Haunted by voices, thrown into schoolyard scuffles, witness to the world's ugliness, and ultimately misunderstood, the everyman's underdog is in a constant struggle to find peace within himself on the "playground hustle."
The Freeze Tag's Hamster Kid will be released May 3, 2011 via Daylight Curfew.