With
all the spineless pieces of shit that have helped eat away at true hip-hop,
the legendary Boot Camp Click has managed to persevere commercial madness
and corporate corruption. Despite not getting any love from radio stations
that they helped build, Boot Camp is still flooding the market with
classic material. "The Last Stand" is the third BCC collaboration
album, and hits stores July 18th. Now reunited with Rock
of Heltah Skeltah, the great 8 are fully loaded and ready to throw a
Timberland up the ass of this of this diluted industry. As they are
about to kick off a promotional tour, Onetwoonetwo caught up with Smokey
Lah a.k.a Tek of Smiff & Wessun, to kick it about the BCC, the industry
and even a little boxing talk.


Last summer was the
"triple threat" summer with the Sean P album, the Buckshot &
9th Wonder and then the Smiff & Wessun
album. Does Boot Camp have a theme like the
"triple threat" this summer?
"Not really, aint no theme
we just puttin out good music, ya know. It's been a while since all
eight of us been in the studio together and shit, so if anything that's
the theme just being back together. But always just hittin em wit good
music."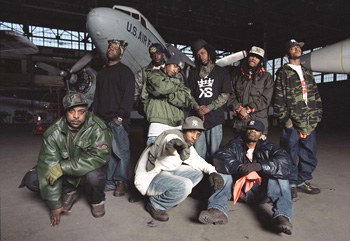 So can we expect another
Smiff &Wessun album soon?
"We're workin on it right
now. It's in the works, ya know we just put out the X-Files mixtape."

Any time frame yet?
"Nah, not yet."

How are Boot Camp's relationships
with commercial radio these days?
"They don't fuck wit us
so fuck em. I mean, if they call they call. We survived long enough
without them. They used to support us, give us a little air play and
shit but if they don't wanna fuck wit us then fuck em. Fans just gotta
know where to check for our shit, hit the website, nah mean."

With songs like
"All Massive" and "#1 Sound" you bring the fusion of hip-hop
and reggae to another level. Why do you think these songs haven't
achieved greater success?
"Well "# 1 Sound" was
a favor for a favor track I just banged out, plus the label I was fuckin
wit was kinda low key."
So you plan to stick with
that style?
"Yeah, definetly. That's
my shit, that's me Smokey Lah, Tek, man."

So is there another Tek
dolo in the works?
"Actually there is, there
is. I just put out the mixtape "I Got This."" We just gotta work
out the business side of things."

We already know about Large
Professor and Pete Rock but is there any production from Steel on
"The Last Stand?"
"Steel co-produced the Large
Pro joint"

Boot Camp and Mobb Deep
have some unreleased classics together, and both happen to be doing
a show on July 19th at Nokia Theater. Can we
expect any new BCC/QB collaborations in the near future?
"Man, them records got so
much dust on em, but they our peoples from way back. It's all a business
now. Their company might not want them to do it, they may feel we're
too small, we may feel they're too big. But anything is possible,
once that brown juice gets flowin anything could happen."

Has there been any progress
with the release of the "One Nation" album?
"It's percolating with
the Shakurs. We been talkin about a memorial tour with the Outlaws and
shit, but as far as the album it's between Suge''s company and
mama Shakur's company. If it does get released it might not be the
same as when my nigga was hear fuckin wit us, there might be some new
cats on it, but it's all good music."

Do you feel Pac's remaining
material has been somewhat desecrated with the last two albums,
"Better Dayz" and "Loyal to the Game?""
"Not really, it's all about
how some chooses to remember a loved one. Just like if you keep your
grandmother's ashes in an urn.

Pardon, my question was
unclear. I meant desecrated by way of the watered-down beats and featured
artists.
"Of course, of course. Niggas
is on tracks who Pac might not have even fucked wit if he were here.
The beats and features are geared towards the interests of the label.
Pac never gave a fuck who made the beat, the nigga deliverin the chicken
could have made the beat, if it was hot he spit on it. We learned a
lot fuckin wit Pac as far as work ethic and shit."

What''s in your CD player
or iPod right now?
" I'm fuckin wit a lot
of mixtapes, got a Mary J joint. That Akon, Baby Cham "Ghetto Story"
the new Letoya Luckett "Torn"" shit…"

Surprisingly mostly radio
joints.
"Well I don't fuckin hate
the radio. I listen to a lot of Sirius channel 40. I don't really
listen to the radio but I gotta know what's out there."

You''re a big boxing
fan, do you think Winky Wright should have gotten the decision over
Jermaine Taylor?
"Yeah, hell yeah. But duke
blew it in the twelfth round,
he should have fought more instead of runnin like that. But yeah he
still beat him the whole fight.

Thanx for your time Tek,
best of luck with "The Last Stand," peace.
"Peace man, thanx"