Exclusive T-Shirt Design Symbolizes The Epic Event That Brought Together Emerging Hip Hop and Punk sub-cultures at The Roxy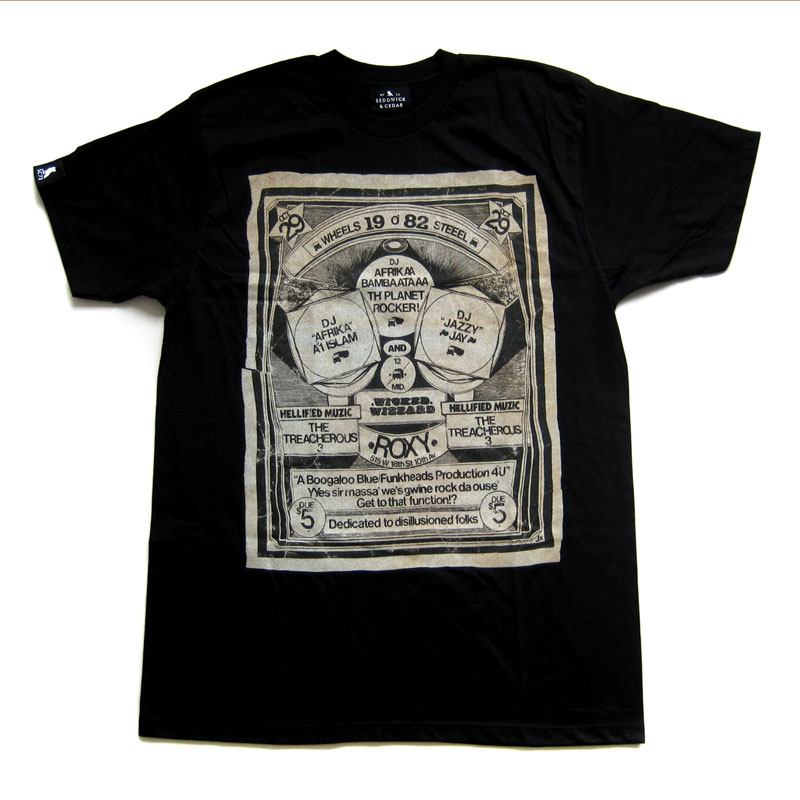 New York, NY: Sedgwick & Cedar (www.sc73.com), a brand that celebrates innovation, creativity, and pioneers across multiple genres, has just announced its latest release of the t-shirt "Wheelz of Steel." The tee, named for a memorable event at New York City nightclub The Roxy, and marked the first creative interaction between the two emerging cultures Hip Hop and Punk. It is available now at www.sc73.com.
The design stems from an ongoing Hip Hop party at Club Negril in New York City that then had to move to The Roxy due to its growing size.  Kool Lady Blue threw the first Hip Hop party there in June of 1982 and unbeknownst to them, it was the beginning of an evolution of music culture.   
That night headlined a variety of Sedgiwck & Cedar founding members including Afrika Bambaataa and featured resident DJs Afrika Islam, DJ Kool Herc, Grandmaster Flash, Grand Wizard Theodore and GrandMixer DST with MC Melle Mel as master of ceremonies. Throughout its span, the party featured performances by everyone from the Rock Steady Crew, Double Trouble, Cold Crush 4, Fantastic 5, Chief Rocker Busy Bee, Lovebug Starsky and hosted artists including Future 2000, ammelzee, LEE and Keith Haring.
The turning point for The Roxy occurred when Kool Lady Blue booked a screening of the Sex Pistols' movie "The Great Rock n Roll Swindle." The film attracted punk kids and new wave heads – a completely different crowd from the usual Friday nights.  The film was shown early and most of the crowd stayed after the screening.  The Friday night crowd eventually showed for the party and the mixed scene at the Roxy downtown. This night marked the true beginnings of Hip Hop's growth into other sub-cultures, and is reflected now in this T-Shirt design.
This exclusive design will be available in limited quantity and symbolizes one of the first cultural collaborations between Uptown Hip Hop and Downtown Punk cultures. The announcement of this design appropriately follows the release of Sedgwick & Cedars most recent line, "Sole School." The Sole School collection honors the importance of laces and the evolution of the sneaker. Parisian artist and sneaker-aficionado TYRSA designed the collection in collaboration with Sedgwick & Cedar and Hip Hop founding member Grandmaster Caz, who has appeared in such sneaker documentaries as "Just For Kicks" and the recent NIKE documentary, "Air Force 1: Anatomy of an Urban Legend."
Wheelz of Steel is available now at www.sc73.com.
About Sedgwick & Cedar
Based in New York, Sedgwick & Cedar celebrates innovation, creativity, and pioneers across multiple genres of music. The line is inspired by the birthplace of Hip Hop, based off of the first house party held in The Bronx, New York on August 11, 1973. The brand provides clothing that pays homage to the birthplace, the roots, the movement and the icons of different cultures of music. Sedgwick & Cedar's authenticity is enhanced by its mission to reintroduce the rich history of music and its culture to a modern global audience. To learn more visit: www.sc73.com