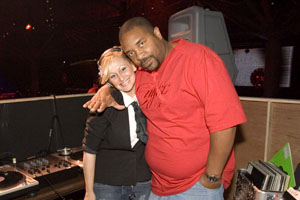 On August 24, 2005 in Minneapolis, Minnesota, chain store giant Target held a massive private event for their employees. This was a tie-in to their nationwide "Baby Got Back To School " promotional campaign. People will undoubtedly recognize the word play off of the Sir Mix-A-Lot hit "Baby Got Back ". As a result, Target brought out the Seattle emcee to perform for the crowd. Interestingly enough this was Mix-A-Lot's first time in Minneapolis. As reported Sir Mix-A-Lot's DJ and fellow Seattle native, DJ Girl 6, they were unprepared for the intensity of the thousands in attendance as Mix jumped into the crowd to begin his most famous chart topper and was bumrushed by fans and was in need of rescue.
The show was a bigger deal they than had expected and the biggest surprise for the Seattle performers were the other acts that took the stage and opened up for them.
DJ Girl 6 gives her first hand account of the event.
"The August 24, 2005 show for Target ended up being a HUGE deal! Prior to Sir Mix A Lot's performance (with GIRL 6), Target had all these crazy superstar performances by Aerosmith, Santana, Rob Thomas, Earth Wind and Fire, Gloria Estefan and MORE!
The venue featured a MASSIVE half pipe for bikes, simulated race cars, ceiling to floor visual displays and more! These people know how to CELEBRATE! Mad props to the marketing peeps at PMH! "
Sir Mix-A-Lot recently had a surprise hit in Europe off of a dance remix of one of his songs done by DJ Girl 6. Over the years Mix has invested his money well in business and has had much success in the in the ringtone market. He is currently in the studio recording a new album.
DJ Girl 6, DJ's for a radio show in Seattle called "Street Sounds " with host B. Mello, as well as travels the world as a much sought after DJ in her own right.
Pictures by DJ Girl 6