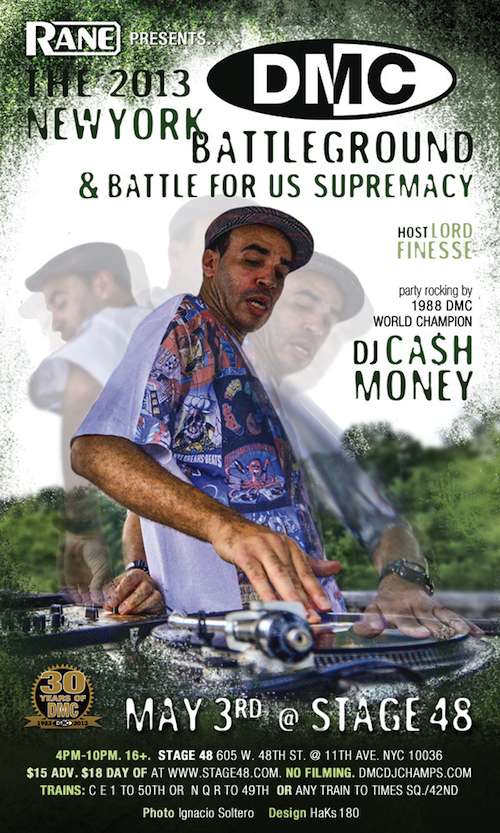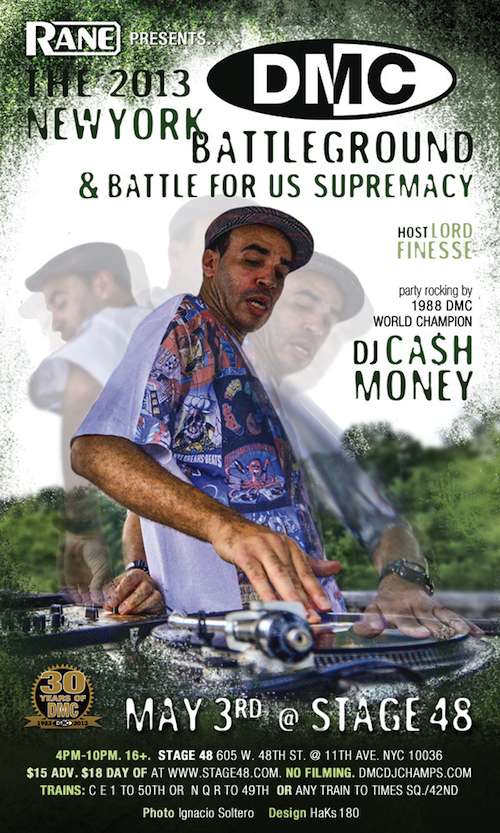 DJ Cash Money Photo by Ignacio Soltero Flyer by Haks 180
$15 advance!
$18 day of  
DMC USA
Friday May 3 from 4-10pm.

1988 DMC World Champion: DJ Cash Money partyrocking & showcasing

Host: Lord Finesse DITC

2013 DMC NYC Regional DJ Battle
2013 DMC Battle for US Supremacy (head to head)
featuring the best Hip Hop battle DJs in NYC & beyond!

DJ Eliminations begin at 4pm. DJ battle Finals to follow and DJ Cash Money closes out the show. Be ready to dance and bring $$$ we are vending!

Stage 48 605 W 48th St @ 11th NYC 10036stage48.com 16+.

$15 in advance at ticketweb.com. $18 day of.
No filming. Thank you for respecting.
Rane presents the 
2013 DMC American Battleground
In true school Hip Hop culture, battling is all about earning your stripes and paying your dues. DMC World is celebrating 30 years of staging the battlefield upon which many of the greatest turntablists of all time have achieved legendary status by battling their way to the top! DMC World Champs hailing from the US include DJs Craze, Cash Money, Roc Raida (RIP), Cheese, Mix Master Mike, Qbert, Apollo,Shiftee, Vajra and ieMerg. Not to mention national champs includingAladdin, Rectangle, Swamp, Slyce, P-Trix, Klever, Enferno,Etronik, Precision and so many more!!
Champions from the 2013 DMC battles in the USA will win Rane Mixers + prizes from Shure, Smokin' Shells, 12inchSkinz and Elite Philosophy.
Battle DJs must register by the day before the battle. Enter as many battles as you like. Battle experience is priceless! For more info on how to register please write to usa@dmcworld.com.
For companies wishing to sponsor, DMC USA is happy to customize sponsorship packages to fit your budget for the 2013 DMC USA Finals on Aug. 3 (and we are also helping with sponsorship for Aug. 4: Grand Master Roc Raida Memorial Gong DJ Battle.
I look forward to hearing from you and seeing you at the battles!
Christie Z-Pabon
DMC USA CEO
| | |
| --- | --- |
| | Aug 3: DMC US Finals @ Stage 48 NYC |
tickets
  
DMC USA
DMC's classic, most legendary DJ battle! 13 regional champs battle for the US title, the grand prizes and the chance to represent the USA in the 2013 DMC World DJ Championships! 5-10pm. Host, showcases & performers tba. 16+. Stage 48 605 W 48th St NYC 10019 stage48.com No filming – we got this!!
| | |
| --- | --- |
| | Aug 4: 2013 Roc Raida Memorial Gong DJ Battle!  |
5pm-11pm
  
2012 info
Roc Raida
*Not a DMC DJ Battle but part of Ultimate DJ Battle Weekend! The Gong DJ Battle is a dynamic head to head that combines turntablism + drama + comedy!$16 advance. All proceeds go to his wife and daughters. Host, showcases & performers tba. 16+. Stage 48 605 W 48th St NYC 10019.
stage48.com Sponsors Welcome (contacttoolsofwar@gmail.com). No filming.