4-10pm. All Ages @ Santos Party House 96 Lafayette St. NYC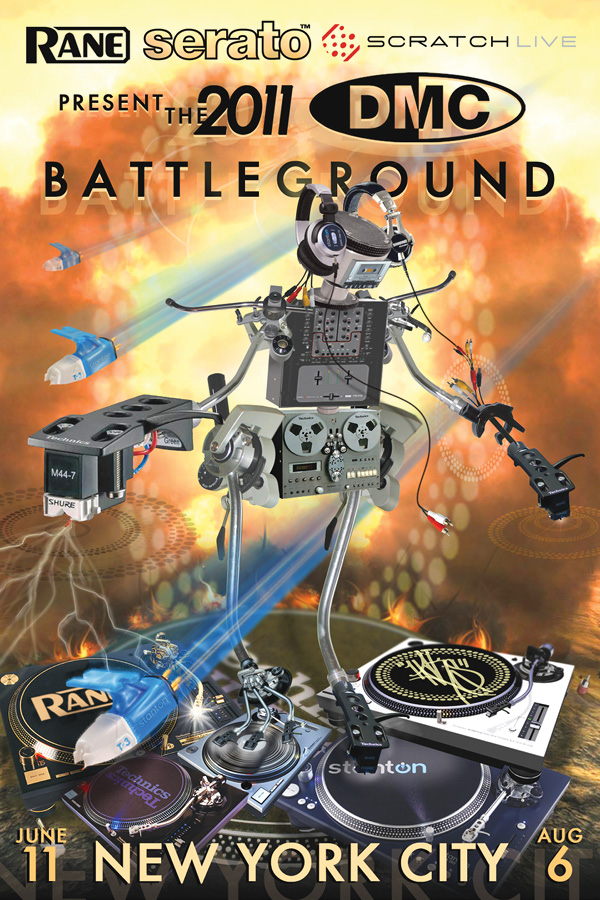 June 11: DMC Battle for US Supremacy + DMC East Coast DJ Battles
Showcases by DJ Total Eclipse and DJ Rob Swift + Deep Diggin All 45 Set by DJ Chuck City!
Maybe a Very Special Guest if there's Time…
2 Major DJ battles in One Day! Early Show!
Host: DJ FatFingaz aka Mr Shutemdown!
Judges: DJ Spictakular, Marcus, Sugarcuts, DJ Esquire & more.
4pm-10pm. All Ages.
Save $5 and Buy $15 Advance Tickets now from ticketweb.com
$20 day of.
No Filming – yes that means camera phones too! Respect!
Santos Party House
96 Lafayette St. betw. Walker & White
New York NY 10013
santospartyhouse.com
Trains: N Q R W 6 J M Z A C E to Canal & B'way or try hopstop.com
Promoter: Christie Z-Pabon – DMC USA
Let us know to expect you! RSVP on our facebook event page too!
Details/More Info: Eliminations begin by or before 4:30pm with each DJ performing a 2 min. set for the judges in hopes of advancing to either or both of the battle finals.
Only 8 DJs can advance to the DMC Battle for US Supremacy. They will then be paired up to battle – head to head – until only 1 is left standing! The 2011 DMC US Supremacy Champion will advance to the DMC World DJ Championships in London on Oct. 6 & 7th.
Only 6 will advance to the 2011 DMC East Coast DJ Battle Finals – a showcase style DJ battle. The Champion from this battle will advance to the DMC US Finals on Aug. 6th in NYC.
More DJs than ever are entering this year! 30+ from NY, NJ, NH, WA, PA, TX, CA, FL, CO, OH, GA, MA, MD, CT, MI, DE, AZ are all representing on June 11th!!
To register – please write to Christie Z at usa@dmcworld.com.
Last day to register is June 10th at 11:59pm!
| | |
| --- | --- |
| | 2011 DMC American Battleground RESULTS! |
| | |
| --- | --- |
| | August 6: DMC USA DJ Finals – New York City |
4-10pm. All Ages @ Santos Party House 96 Lafayette St. NYC


Feat. 2009 DMC World Champ: DJ Shiftee + DJ Woody courtesy of Rane! 4pm-10pm. All Ages. Champion DJs from each of the DMC US regional battles meet in NYC on Aug. 6th to battle for the 2011 DMC US title! Competitors include DJ Qbase (TX), Immortal (FL), DJ Concept (FL), DJ Charlie Sheen (VA), Shmeeze (CA), Vajra (CO), As One (MD), Cysko Rokwel (CO), DJ Ohm (NM) and more to be announced after June 11th! 2010 DMC US Champ: DJ Etronik from CA is defending! Santos Party House 96 Lafayette St. (betw. Walker & White) NYC. santospartyhouse.com N Q R W 6 J M Z to Canal or A C E to Canal & B'way. $15 adv. tickets. *No filming!
| | |
| --- | --- |
| | Oct. 6 & 7: 2011 DMC World DJ Championships London |
Oct. 6 & 7: DMC World DJ Championships

DMC battle champions from all nations journey to London to compete in any of 3 categories for DMC World champion status! The DMC World Finals is the classic showcase style DJ Battle. The DMC Battle for World Supremacy is a true school head to head battle. DMC World Team competition features 2 to 4 battle champs joining forces! Venue: Indig02 at the 02 Arena in London theo2.co.uk More info: dmcdjchamps.com and dmcworld.com
| | |
| --- | --- |
| | DJs Must Register to Battle + Prizes from Sponsors |
Register for any battle by sending your details to DMC USA CEO: Christie Z-Pabon at usa@dmcworld.com

DJ Name

First Name & Last Name

Complete Address, Apt or House

City

State

Zip

Phone

Email

Website

Which city/battle you are entering?

Crew affiliation

Updated rules to be posted soon at dmcdjchamps.com

2011 DMC USA Regional Prizes

1st: choice of either SL 4 for Serato Scratch Live or TTM 56s Mixer

1st: Stanton Cartridge: SM v3 MP4 + DJ Pro 2000 Headphones

1st: Exclusive Eric Orr T-Shirt!

2nd: Stanton Cartridge: 500/505/520 H4 Twin (based on which is available)

3rd: Stanton DJ Pro 2000 Headphones

2011 DMC USA Team Prizes

1st: Choice of either SL 4 for Serato Scratch Live or TTM 56s Mixer – for each member

1st: Stanton Cartridge: SM v3 MP4 for each member

The 2011 DMC Battle for US Supremacy (head to head) Prizes

1st: Rane TTM-57SL Mixer

1st: Stanton SC SYSTEM 3 Controller Package

The 2011 DMC US Finals Prizes

1st: Rane TTM-57SL Mixer

1st: A pair of Stanton STR8.150 Turntables

2nd: Stanton M.207 Mixer

3rd: Stanton Cartridge: SM v3 MP4 and DJ Pro 2000 Headphones

We Get Press!
new york times village voice paper hip hop dx urb frank151 amoeba mixcrate westword brooklyn vegan oc weekly wfmu more amoeba
one two one two dj times
| | |
| --- | --- |
| | DMC's Online DJ Championships: dmcDJonline.com |



Round #6

Begins

May 12!

DMC's 1st Ever Online DJ Championship

Register to vote and/or battle! Champs thus far include:

Round 1: DJ Unkut (Germany) & DJ Anubus (USA).

Round 2: DJ Rasp (UK) & DJ Loop Skywalker (UK)

Round 3: Ritchie Ruftone (UK) & DJ Cordella (Italy)

Round 4: Shmeeze (USA) & Immortal (USA)

Round 5: DJ As One (USA) & DJ Kussy (Japan)

Round 6: Elmu (Japan) & Fatfingaz (USA)

Round #7 just began yesterday! Post a File ____!

Each round = 2 weeks. Top 2 advance per round.

DMC Online DJ Finals in August. dmcdjonline.com
| | |
| --- | --- |
| | About DMC: The World's most prestigious DJ Battles |
About DMC World & DMC USA


DMC DJ Battles are the longest running, most prestigious turntablist battles in the world.

From DMC battles, legends are made. Being a DMC World or National Champion continues to be one of the most sought after titles for DJs worldwide! Some of the music industry's best DJs are DMC World or National Champions:

DJs Cash Money, Qbert, Craze, Klever and Shiftee perform & rock worldwide!

Roc Raida (RIP) DJ'ed for Busta

A-Trak + DJ Craze DJ'ed for Kanye

Mix Master Mike: The Beastie Boys

DJ Enferno tours with Madonna

DJ Dummy is Common's DJ

DJ Abilities DJ'ed for Eyedea (RIP)

DJ Babu is the DJ for Dilated Peoples

DJ Rhettmatic DJs for Visionairies

DJ Swamp DJ'd for Beck

Apollo & Shortkut are in Triple Threat DJ Rukas rocks for Freddie Foxxx

DJ Supreme toured with Lauren Hill

DJ Rocky Rock rocks for The Black Eyed Peas
| | |
| --- | --- |
| | Support the Sponsors Who Support the Events You Love |
Sponsors:

Very Affordable

Sponsorship Opps for the DMC US Finals in NYC Aug. 6

Contact: Christie Z
| | |
| --- | --- |
| | Visit our Links! |
Please visit us at:

dmc world on facebook

myspace.com/dmcusa