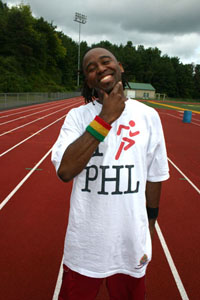 DOWNLOAD: iCON the Mic King – "Sparks Fly" feat. Awar (Prod. By Vanderslice)
iCON the Mic King is back with the third and final track from his Headphones Classics series. "Sparks Fly" is about as in-your-face as it gets, though iCON doesn't show himself anywhere in the first two verses. Instead, he leaves the rhyming up to fellow emcee, Awar, who recently signed to iCON's new label, Master Works Unlimited. "Sparks Fly" ends up being a showcase of a track for Awar, who admits, "This is really me just flexing my bravado and skills with iCON laughing in the face of competition." We can thank Vanderslice, also under Master Works, for the instrumental portions of the track. His sparse bass lines are connected by a dark, pulsing 80's synth sample. The aggressiveness of the track was something iCON was striving for, "The other two songs in the series are multi-layered, metaphorical masterpieces, but this track is just a sword-to-the-neck 'we're better than you' type track." iCON does his part when his voice is finally heard, closing the track with a high-energy verse. Make sure to check out all the tracks from iCON's Headphone Classics series.
Also be sure to check out material from Vanderslice, who produced these first two iCON tracks, as his new Fresh Baked Goods EP is out now via Master Works Unlimited. You can give a listen here: .