HERITAGE BRAND SEDGWICK & CEDAR PAYS HOMAGE TO RICH HISTORY OF MUSIC; ANNOUNCES EXCLUSIVE CLOTHING LINE FEATURING ICONIC IMAGES FROM PHOTOGRAPHER JOE CONZO
Brand Introduces Itself to a Modern, Global Audience; Founding Members Include Pioneers of Hip Hop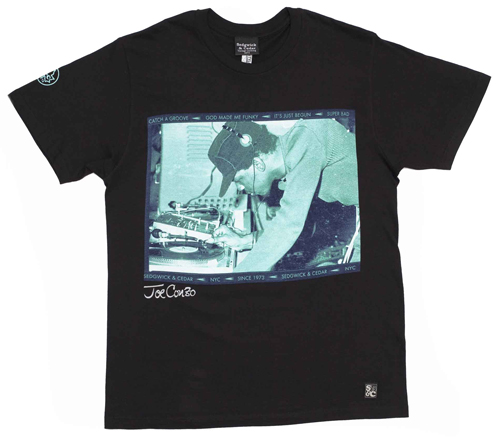 New York, NY: Sedgwick & Cedar, a brand that celebrates innovation, creativity, and pioneers across multiple genres, has just announced its latest product line of graphic tees featuring images from legendary photographer Joe Conzo. The announcement coincides with the re-emergence of the heritage brand with the launch of its new website, that also includes tees depicting original party flyers from that era, and iconic photography from Jamel Shabazz. Products are available now at the new www.sc73.com.
Joe Conzo is a photographer who has a deep understanding of the true origins of hip-hop–the powerful, spontaneous and progressive culture that grew out of tough '70s Bronx neighborhoods. Conzo shared his entire library of '70s New York photography with Sedgwick & Cedar to enhance its collection of t-shirt imagery. Every piece in the Joe Conzo line is extremely limited and available now at select stockists and online.
On August 11, 1973, the first house party was held in a small recreation room at 1520 Sedgwick Avenue in The Bronx, New York. Over time, these house parties became more popular, later moving to Cedar Park in the same neighborhood. This house party signified the birth of a movement and a culture, later referred to as Hip Hop. Years later, Ray Riccio launched Sedgwick & Cedar: a clothing brand rooted firmly at this intersection. Through Sedgwick & Cedar, Riccio and the founders of Hip Hop culture are telling the untold story of that era's origin: genres that contributed to the music, and to its icons.
Riccio had help launching the brand with help, and with continuous support from his team of founding members that include Grandmaster Caz, DJ Kool Herc, Grandwizard Theodore, Sha-Rock, and many more (descriptions below). What began from a desire to create a brand steeped in history has evolved into a clothing line distributed worldwide. Each article of clothing is limited edition and has now expanded to vintage cut & and sew styles that encapsulate the look, feel and aesthetic of that time period.
"My dream was to build a trusted, consumer brand that serves as an homage to the untold story and the icons of Hip Hop ," said Riccio. "My brother Ed and I started this company in his basement–never dreaming we'd meet and partner up with so many legends. All of the founding members have not only supported the brand, but have helped to make Sedgwick & Cedar the authentic label it is today."
Thanks to Sedgwick & Cedar, DJ Kool Herc and Grand Master Caz who helped launch the culture and years later the brand, now have an opportunity to earn from royalties derived from all sales. In addition, Sha-Rock, Grand Wizard Theodore, and Coke LaRock earn royalties from the sales of products that include their images.
"It's incredibly important to me to not only be a part of this brand that pays homage to our roots, but to have a voice in its creation," said Grandmaster Caz. "Sedgwick & Cedar is reviving this explosive moment in musical history by representing a culture and a movement that myself and the other pioneers are proud to have had a part in creating."
FOUNDING MEMBERS

Grandmaster Caz
The First Simultaneous DJ and MC in Hip Hop History.
Grandwizard Theodore
Creator of the Scratch
Coke la Rock
First MC in Hip Hip History
Sha-Rock
Known as "Mother of the Mic", First Female MC in Hip Hop History
DJ Kool Herc,
Known as "The Father of Hip Hop Culture": Held the First House Party at 1520 Sedgwick Avenue, and performed the ground breaking art form of the Merry-Go-Round using two turntables at one time.
Afrika Bambaataa,
Known as the "Master of Records"; Founded the Universal Zulu Nation: a group of racially and politically aware people involved in Hip Hop culture
Melle Mel
Known as the "Godfather of Rhyme;" The first MC to explode in a new rhyme cadence which remains the foundation of rhyming to this very day.
Chief Rocker Busy Bee
Hip Hop's First Solo MC