Field Mob Respond to New York Diss Rumors
May 2, 2006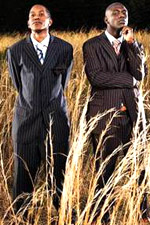 Atlanta rap duo Field Mob have been the victims of
rumors lately as video footage of Shawn J and Smoke
allegedly dissing New York rappers circulated the
web. The video, which first made its appearance on
YouTube.com, was created using portions of the Raw
Report DVD Magazine Platinum Plus Series: Ludacris
Presents Disturbing the Peace, which was edited
down to a two minute false depiction of the
rappers "dissing" New York. In particular, two
portions of the video were used. In one portion, the
group pokes fun at New York slang. This was filmed
while the group was on their tour bus, and was
actually a joke between the group and their
manager, who is from New York. The second part of
the video shows Field Mob discussing the phrase "we
gotta bring New York back." In the context of the
original DVD footage these comments simply show
Field Mob expressing concern that the underlying
sentiments behind the phrase are aimed at
demeaning the recent rise of Southern Hip-Hop.
These two sections were edited together to create a
fabricated controversy that doesn't exist.



Both Field Mob's label and management are located in
New York, and the companies deny the rumors that
Field Mob was dissing New York rappers. Disturbing
Tha Peace released a statement addressing the issue
that reads: The video that has made its way to
message boards across the net of Field Mob dissing
New York rappers is false. Field Mob in no way has
any beef with anyone in New York. In fact, people
from Field Mob's label and management, DTP are from
New York. Check out this clip to see the real footage
from The Raw Report. The original footage in its
entire length has been posted on Field Mob's official
artist page (
www.fieldmob.com) and Myspace page (
www.myspace.com/fieldmob).