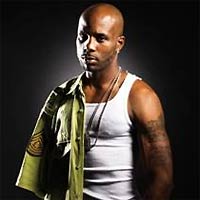 You know apparently cats just can't let people shine alone. The illegal and inhumane dog fighting news brought about by Michael Vick's guilty plea for his involvement in such activities hasn't gone unnoticed. A few hours ago DMX's Phoenix home was raided by police and 12 neglected pitbulls were removed.
This isn't DMX's first charge of animal neglect. In 2002, Dark Man X, pleaded guilty to animal cruelty charges for neglect of 13 pitbulls. Part of his punishment required him to do a public service announcement denoucing cruelty against animals.
No charges have been brought against anyone yet, including the rapper who was not at home at the time of the raid. There also has been no word on why his home was raided in the first place, nor if DMX was involved in any illegal activities with the dogs.