"Ridiculous, the magical masterfully mathematical survivor of Mick Jagger mixed with the classic attitude"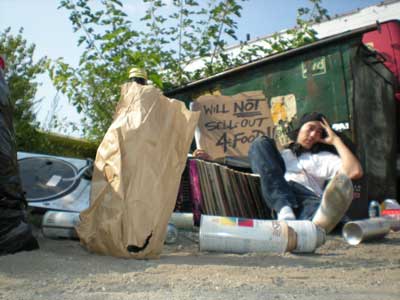 DOWNLOAD: DJ JS-1 – "Ridiculous" feat. OC & Pharoahe Monch
The new single off DJ JS-1's No Sell Out truly is "Ridiculous." Featuring OC and Pharoahe Monch, two New York emcees who have a reputation for crafting lyrically superior verses, JS-1's beat is the glue that brings the track together. Utilizing a recognizable sample, JS-1 flips it his own special way, giving OC and Monch a dope backdrop to spit on. "Ridiculous" opens with an introduction by Common and is followed by an effortlessly perfected verse from OC. Pharoahe Monch steps in next, showing off his rap calculus, as complex rhyme schemes and patterns abound. Finally, JS-1 flexes his scratching skills with a turntable solo to wrap it all up.
DJ JS-1 had this to say about the track: "On my first album, the song 'Beyond' was well-liked, so I had to make sure to get OC once again. Pairing OC with his longtime friend, and another of my favorite and greatest emcees of all-time, Pharoahe Monch was a no-brainer. Wait 'till you hear the remix with Masta Ace!!!" No Sell Out drops June 23rd via Fat Beats Records.
The Background:
As a member of the world famous Rock Steady Crew, partner of Rahzel (the world's #1 beatboxer), and occasional tour DJ for KRS-One, DJ JS-1 has toured the planet with over 1,000 shows in more than 32 countries and hundreds of cities. During that time, the Queens, NY native has shared the stage with a wide variety of artists, including 50 Cent, RUN DMC, Maroon 5, Wu-Tang Clan, The Roots, Busta Rhymes, Talib Kweli, Redman & Method Man, Wyclef, OAR, Dashboard Confessional, Snoop Dogg, All American Rejects, Mike Patton, and many more. As a producer, JS' list of accomplishments runs just as long, having worked with a number of artists, such as Common, Will Smith & Jazzy Jeff, Immortal Technique, Big Daddy Kane, Dilated Peoples, Kool G Rap, Masta Ace, Pharoahe Monch, Brand Nubian, and Kool Keith just to name a few. For the past three years, JS-1 has stayed busy touring, producing, making high-profile TV appearances, and completing his new album. The result is an album will serve to make DJ JS-1 a household name for all within the hip-hop community.
For No Sell Out, an album recorded as an addendum to his previous solo effort Ground Original, JS-1 enlisted the help of an extensive and notable list of guest emcees, including KRS-One, Large Pro, Pharoahe Monch, Canibus, Sean Price, Blaq Poet, Killah Priest, Ill Bill, Kool Keith & Ced Gee (Ultramagnetic Mc's), Aesop Rock, Vast Aire, Chino XL, Sadat X, AG, OC, Craig G, CL Smooth, Edo G, Prince Po, Akrobatik, J-Live, Vinnie Paz of Jedi Mind Tricks, Rakaa of Dilated Peoples, Krondon, C Rayz Walz, Vast Aire, Nutrageous, Copywrite, PMD, Rahzel, EMC (Masta Ace, Strick, Wordsworth, Punchline), Termanology, Torae, Pumpkinhead, Jak D, Big Noyd, Q-Unique, Brother Ali, Slaine, Virtuoso, Pack FM, Supastition. Block McCloud, Trez, Rugged Intellect, and DJ Premier. No Sell Out is available June 23rd via Fat Beats Records.