DMV-Based Trio To Release New Version Of In The Rough With Two Unreleased Tracks, Unleashes Album Version of "I Mean Business"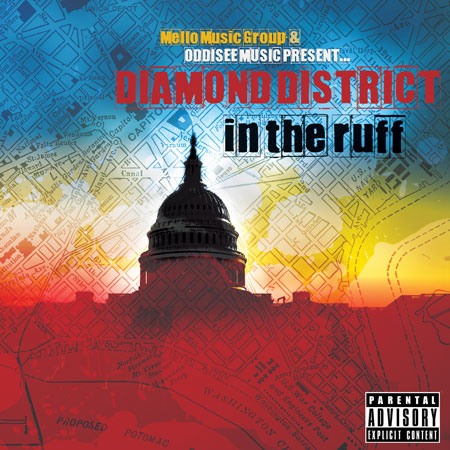 (Brooklyn, NY) Hip-hop trio, Diamond District, comprised of producer/emcee Oddisee and emcees X.O. and yU, is proud to announce the official retail release of their debut album, In The Ruff, featuring two brand new tracks. In The Ruff will be available October 27th via Mellow Music Group.
In The Ruff was crafted to fill a void – musically and regionally. Creating what they are calling a golden era-type album for a city that never truly embraced this type of hip-hop, In The Ruff is Diamond District both looking back and forward, releasing an album that pays homage to music of an earlier time while not sounding out of place in the current indie hip-hop scene. Speaking directly to those sentiments, Oddisee says, "Our love for the particular sound and the need for D.C. to contribute to that sound was our true inspiration for this album." Two new tracks are featured at the end of the album. The first additional track, "Something for Y'all," features production from Oddisee's fellow Low Budget Crew member Kev Brown, while the second track, "Hologram," features production from Oddisee himself, as does the majority of In The Ruff. In addition to the two new tracks, Oddisee will also be crafting remixes for a select number of tracks from the album, which will be released free for fans.
While In The Ruff's original release came as a free online download through, with the numerous changes and added tracks Diamond District decided to release a retail version. One of the most prominent alterations is the album's change from clean to explicit. The original release was edited for content, while the upcoming re-release is untouched, giving the album, in its entirety, a more authentic feel – raw and unaltered from the way Diamond District intended. In order to give the album a proper release, Diamond District has partnered with rising Phoenix, Arizona-based label Mello Music Group, also home for artists Trek Life, Kenn Starr, Sareem Poems, Georgia Anne Muldrow, Dudley Perkins, and more. On wanting to work with Diamond District for In The Ruff's official release, Mello Music Group founder, Michael Tolle, stated, "We heard In The Ruff and thought 'this is the best album of year.' We had to document it in a physical, tangible way. MP3's are cool, but in the end, we wanted to leave behind a cd, some vinyl – something audiophiles could hold in their hands."
The group Diamond District is comprised of emcee/producer Oddisee, and emcees X.O. and YU. Greatly influenced by their surroundings and love for 90's east coast hip-hop, Diamond District is on a mission to bring back the sounds of old with a new twist and represent for the DMV. X.O. who was born & raised in the North West quarter of D.C. defines what it is to be a black male raised in the district. With lyrics that depict street life and harsh surroundings, X.O. has a way of philosophizing that raw, gutter reality of DC life that is rarely looked at or spoken about when we discuss our nation's capitol. Oddisee defines the experience of growing up in black middle class Maryland. Bordering the poverty that his and many other families fled to escape, they found out over time that the troubles of the inner city came along with them. Oddisee's soulful, haunting samples over bass-heavy beat breaks create the perfect instrumentals for Diamond District to match the street savvy, politically conscious lyrics that capture the dynamic of being from the DMV. Y.U., having been raised in the district, Maryland & Virginia, brings that extra variety to the group and shows that D.C. culture has a huge influence beyond its 10 mile radius. Being that YU has lived in all areas of the DMV, his lyrics and stories compliment the rest of the group and define what it means to be from the DMV. In The Ruff, which will be released October 27th via Mello Music Group, will be the group's debut album and is poised to become the official soundtrack for the DMV region.
Early this week, Diamond District also released the official mastered and unedited version of "Who I Be":


To celebrate the announcement of their forthcoming album, Diamond District are also unleashing the official mastered and unedited version of "I Mean Business," one of the album's first official singles, recently released to iTunes.
About Mello Music Group:
Like Lao Tzu in hip-hop, Mello Music Group provides music for the soul, from the heart of American culture, opening the realm of the intelligent hip-hop experience through melodic evocations, beats that corroborate the truth, and voices that roar above the rising void and impose order on the terrible & triumphant moments of everyday life. This is the compelling sound of Mello Music Group. Industry newcomer Michael Tolle founded MMG in 2007 and is acting Director of Operations. MMG will be releasing projects from Oddisee, Georgia Anne Muldrow, Kenn Starr, Finale, Trek Life, Dudley Perkins, Sareem Poems, and YU in 2010.