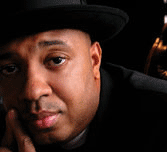 Condolences go out to Rev. Run and his family for their tragic loss. This isn't an easy thing to go through for anyone and I'm sure the stress is multiplied by the fact that not only are they in the public eye but are a Reality TV family.
Rev. Run issued this statement to the Associated Press; "On Sept. 26, 2006, Victoria Anne Simmons for some unknown reason chose to come early and unfortunately did not survive," his statement said. "We
must accept whatever is there and once you accept unconditionally, then
everything is beautiful. Every pain has a purifying effect. So whatever
comes your way, just be thankful. We see life in death and believe in
the celebration of life in death."




TMZ.com reported
A rapper's wife gave birth Thursday, but the scene quickly turned to tragedy after their newborn girl was pronounced dead.
Rev.
Run, a.k.a. Joseph Simmons, shocked fans last year when he announced
that his wife Justine was pregnant on his MTV reality show "Run's
House."
Justine's pregnancy was the cliffhanger on the MTV show
last season. It generated intense interest among viewers who have been
anxiously following the pregnancy and awaiting the birth.
Simmons,
a member of the legendary rap group Run-DMC, was at Valley Hospital in
Ridgewood, NJ Tuesday for the birth of his child. Doctors delivered the
baby via c-section, revealing a cruel twist of fate — the baby girl
was born with organs outside the body. The newborn died a short time
later.
TMZ has learned that MTV cameras were inside the
hospital at the time of the birth, though we do not know if they were
in the delivery room.
Rev. Run responded – http://www.tmz.com/2006/09/27/rev-run-speaks-about-family-tragedy/