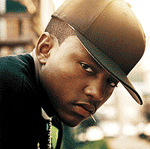 MTV has reported that rapper Cassidy is in critical condition after a car accident in New Jersey. Cassidy was the passenger in an SUV that was hit by an erratic U-Haul truck while on his way to the studio in Yonkers, New York.
MTV reports:

Cassidy was rushed to the hospital, suffering a fractured skull. A
large number of bones in the left side of his face were also broken,
according to his people. Cassidy is in critical condition and is said
to be breathing on his own. On Thursday afternoon (October 5) he
underwent a CAT scan; his reps report Cassidy's doctors as saying his
brain activity is normal, adding that the rapper is heavily sedated and
his injuries are not life-threatening. None of the four other
passengers in the vehicle were injured.
Cassidy is best known for his hit single "Hotel" which featured RnB vocalist R. Kelly and for his demolishing of Freeway in a freestyle battle while Jay-Z and the Roc looked on.
Cassidy was released from prison
earlier this year after an eight month sentence for involuntary manslaughter in the death of Desmond Hawkins in 2005. He is currently working on a new album. No date has been set yet for it's release.