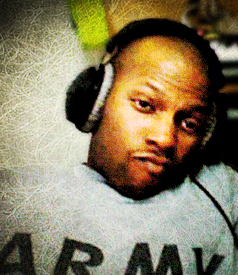 DOWNLOAD: Marc Watercus – Stop Loss
Marc Hall aka Marc Watercus is the US Army Specialist and Iraq War veteran who was imprisoned by the US Army on December 11, 2009, in Liberty County Jail, Georgia for venting his agner in a rap song about being a victim of the United States Military's Stop-Loss Policy. The veteran recorded the song "Stop Loss", which is a mixture of original rap lyrics and news soundbytes, denouncing the policy that prevents him from ending his service.
To those unfamiliar, the Stop-Loss Policy involuntarily extends the term of service for military personal beyond their initial service end dates. According to the Pentagon, more than 120,000 soldiers have been affected by stop-loss since 2001, and currently 13,000 soldiers are serving under stop-loss orders. The policy has been challenged in the federal courts but has always been found to be legal and in accordance with the enlistment contracts service members agree to upon entering the military.
The song contains several references to the use of his gun against his superiors to curb their use of the Stop-Loss policy. Hall mailed a copy of the song to the Pentagon after the Army extended his contract for a second Iraq deployment.
Links
Marc Watercus –
Davy D Blog – http://hiphopandpolitics.wordpress.com/2010/01/15/army-imprisons-soldier-for-singing-against-stop-loss-policy/
TruthOut.org – http://www.truthout.org/article/army-imprisons-soldier-singing-against-stop-loss-policy
Stop-Loss Wikipedia page – http://en.wikipedia.org/wiki/Stop-loss_policy