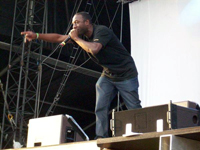 On July 8th, 2007 Leipzig, Germany was host to the the Splash Festival, a 3 day Hip Hop event. The long list of of artists included the likes of CunninLynguists, Dilated Peoples, and Redman. Stones Throw records was on the scene and an interview was schedule to take place with one of their artists. So with questions ready, the hunt was on to get up with Stones Throw's Aloe Blacc.

Scene I 1pm
Still no call from Aloes manager. I start to get a lil discouraged since I was really looking forward to doing this interview with an artist who touched me through his songs and amazed me with his sense for orchestration.
Well, sometimes things don't work out as you want them to.
Scene II 3pm
On my way to the stage I pass a stand displaying a huge sign: "Meet & Greet: Stones Throw, 10pm". I wonder how big the chances are for me to go there, say hi and get the interview right there. And if that small chance is worth missing performances by Dilated Peoples and The Roots. Understand, I love live music more than anything..
I decide that I should give it a shot and start my 30 min walk to the car where I keep the equipment and questions for the interview.
Scene III 6:30pm
I'm surrounded by Hip Hop heads who bounce to the beats of the late, great J.Dilla. On the wheels of steel is Peanut Butter Wolf, founder of Stones Throw Records. Along with him I spot J.Rocc and Aloe Blacc who blessed us with a wonderful performance just moments ago. I feel the energy. The Love.
I feel and understand why at this second there's no better place in the world for me to be at. Those records take me and a crowd of thousands on a journey through the life of a true musician. At that second I stop wondering if the interview is going to happen that night. It doesn't matter. "It's all good."
Scene IV 9:30pm
I leave the Dilated Peoples show early and make my way over to where the Meet & Greet is supposed to be at. The crew hasn't arrived yet so I wait. The place sells records and bridges the time gap by playing songs by Jay Dee. As I can tell by their shirts, more and more fans arrive. So good to see so many people who share your passion and recognize real music..
Scene V 10:30pm
They are here. I tell Aloe who I am and he asks if I would still like to do the interview. How could I say No to that? I wait another 30 min and can hear how the Roots start playing their set.
I don't want to rush but, damn, I would love to see their show. As I ask him if I should come back later he smiles and replies:" You want to see the Roots, huh?". He tells me that we can get started.
The scenery is almost surreal. There's no backstage area. We're right in the middle of the festival, looking for a place to hide from all the noise. We end up sitting on two chairs in a little corner of an empty stand where grillz were being sold earlier that day. I think about that I should've brought my jacket.
As I ask my first question, I forget about the Roots, the cold and the noise. There's nothing better to me than music-conversation with an artist who knows and enjoys his craft as much as Aloe Blacc.

How are you enjoying the festival so far?
ALOE BLACC: Well, we got into the airport late because our flight was late and drove 180 kilometers straight here. As soon as we got here we got on stage and rocked this. So it's been really fun. Backstage meeting all different artists, seeing people from home, the US, you know. It's really dope.
And how do you enjoy being back in Germany since Europe is where your relationship with Stones Throw started? Is it special for you to come back here on tour with Stones Throw?
ALOE BLACC: Yeah it's definitely nice to be here with Stones Throw officially this time. In 2002 I came out here and I was just doing my thing, just hustling, trying to get out to Europe and now I'm actually here with the team as part of the tour and that's really good.
Why did you go with Stones Throw as a label?
ALOE BLACC: Aw man, Stones Throw is I think the classiest; the most genuine Hip Hop label that's in the market right now and it really is a family. Dealing with all the people that are there, all the artists and all the business people. It's not just a label; it's a crew, a family.
Your music is very versatile. You sing, you rap. You make all kinds of music: salsa, reggae, Hip Hop, soul music. What came first, rapping or singing?
ALOE BLACC: Rapping came first. I've been rapping since when I can remember. Since 3rd grade, when I was really young, like 9 years old. And then I started singing later on, after I picked up the guitar and the piano for a little bit. So maybe since the late 90s, 2001/ 2002.
And what got you into rapping in the first place?
ALOE BLACC: I was a b-boy. Started out as a B-Boy, you know. And Hip Hop has been my culture ever since, so now that I'm actually making music for a living. It's what I do. Back in the day I was just listening to Hip Hop and knowing that I can write rhymes. I was doing it just to be part of the culture and not necessarily to sell it, not necessarily to make it my life, it was a hobby for a long time but I decided I'd love to do this as a career.
I read an interview where you said that you prefer singing now. I'm not sure if that's still the case because today you were rapping most of the time on stage. I wasn't sure what to expect, I thought you would probably be singing more. But then again you have the track "Happy now?" on the "Chrome Children 2" album, which is a rap song. So what is more important to you now, what do you like to do, rap, sing or both?
ALOE BLACC: Yeah, I go through phases where sometimes I don't want to rap, where I just want to write songs. And sometimes I go through phases where I just want to write lyrics and be an MC. So for me ultimately what I'd like to do is write songs for other people and maybe just MC or just be a singer/ songwriter or whatever but I don't want to be limited to anything. I always want to just do whatever I feel like doing and be accepted for that. And there are artists that are getting that kind of respect. You have Andre 3000, Lauryn Hill or Cee-Lo. Folks that are rapping and singing or whatever they feel like doing, they do it. That's kind of the way I want to do it. Make sure it's good. As long as it's good, I'll put it out.
Is that also reason why you are with Stones Throw, because they accept that? That they let you do whatever you want?
ALOE BLACC: That's the good thing about Stones Throw. They do accept that I'm an artist that's broad in my approach. Not many labels allow that. Peanut Butter Wolf is really dope. He's got an eye open to progressive music. As long as I keep doing something that's not the norm and I don't become lazy and static I think I'll stay with Stones Throw. They'll keep me and I want to be there.
On the song "Happy Now?" you sound very angry, as if you felt like you're being misunderstood. What's the story behind that track?
ALOE BLACC: The real story behind it is; I made that track about three years ago on a Cankick beat. So Cankick, he's down with the whole crew and it wasn't called "Happy Now?" I didn't have a name for it really. But when Stones Throw was doing this Chrome Children, the Hella International joint Egon (manager of Stones Throw) hooked me up with Four Tet from England. He sent me like six beats. I picked a beat and first I did a song where I was just singing, all singing. And that's the part where the chorus was saying: (singing) "You say what you want'Ķ" So the whole song was like that, kind of like an avant-garde neo-rock/soul kind of track. Neo-Rock, Hip Hop but Egon was like "I think you should rap on this." So I was like, ok. But we took the lyrics from the whole joint because the whole joint, it was the same kind of energy, the same feel. But yeah, that song really is, yeah, the emotion behind it is about like, just me still being braggadocios about my lyrics and rapping and being an MC. Some people don't know because they only heard about Aloe Blacc through the "Shine Through" album and other cats that are Emanon fans and know about Aloe Blacc from before, they still want to hear that raw spit so I got to give it to them. And yeah, I mean, don't get it twisted. Just because I sing pretty songs when I'm singing doesn't mean that when I'm coming with the lyricism that I'm not going to bring it. I'm still in a battlefield with a lot of warriors. So I got to come with it.
So you think singers are automatically being labeled as soft?
ALOE BLACC: Yeah, historically you're going to be labeled as soft but it's because of the content of the lyrics and even the presentation. But I'm sure that will change. As people get older they respect and appreciate different kinds of music. Hip Hop is really a young mans' sport so a lot of young dudes just growing hair on their chins, a lot of testosterone, they don't really care when somebody's singing but I'm going to bring them topics that they'll probably dig and they'll be able to get into.
In an interview you also said that you prefer singing because you think in Rap the lyrics aren't as meaningful as in songs. Do you still feel that way? Me, personally, when I read that, I was surprised because I feel like Hip Hop is the culture that gives people a voice. To me Hip Hop is very meaningful, Rap is very meaningful, and I guess it just depends on what you make of it. Do you still feel the way you said then?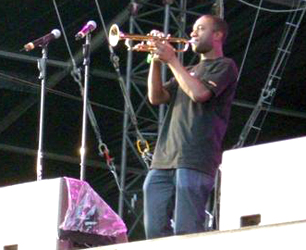 ALOE BLACC: I was really just being hard on myself. With the way I was writing lyrics back in the day I felt like it was just a lot of empty words. Just the way I was writing lyrics. And then I just looked at the landscape of Hip Hop, and listened to a lot of stuff that was coming out. I just felt like it was a lot of empty words. I got homies who write the most beautiful shit and I know that they mean it and it comes from the heart. But at that time, at different times I start to feel like "It's too many words, I need to focus." Like one of my favorite MCs is Guilty Simpson, because he doesn't use too many words. He says what he needs to say in a few words and it has a big impact and it gets to the point right away. And that's really, as I developed in Hip Hop, coming from a really wordy style of writing lyrics and being an MC, I'm trying to bring it down to the way where I'm doing my songs with fewer words, more impact, stronger message, more simple, like a Ernest Hemingway style.
What can we expect next? The "Shine Through" album was released in 2006. When is something new coming out? Are you working with DJ Exile right now?
ALOE BLACC: I'm working with DJ Exile. Another Emanon album for sure is coming. And then after that will be another solo Aloe Blacc album and a lot of other projects, a lot of crazy stuff that you probably wouldn't expect from me or from Emanon or whatever, but we're taking risks with our music. When we know it's good, we know it's good and that's the only stuff we put out. Even though it's different and a risk, it'll be good.
Do you already have a concept in mind regarding your next solo project, do you know if it's going to be more singing or rapping or is it just going to come along in the process?
ALOE BLACC: I do have a lot of different ideas, a lot of different concepts. I'm just going to work on songs and try to figure out what of the songs makes the most sense for the next album. I got a lot of different ideas. One idea is to make it completely singing. Another idea is to work the MC/ singing thing more half and half. Another idea is to just be completely off the wall and do a totally different style. Make a new style of music up. So we don't know, maybe soon.
Since you're on his old label, and I'm a big fan of him myself, I want to ask you this. Did you get to work with J.Dilla? And what are your thoughts on him?
ALOE BLACC: I did a song that Dilla produced for AG.
The "Hip Hop Quotable", right?
ALOE BLACC: Yeah. Madlib produced a song for AG too. I did choruses on both of those. Two years ago I recorded a track, a couple of tracks to Dilla beats and sent them to him when I was with Stones Throw, this was before I got signed. I never heard anything about it but J.Rocc, after Dilla passed, Rest in Peace, J.Rocc had some music from Dillas computer and he played one of the songs that I had sent him. So I know that Dilla heard it and J.Rocc said he had it in a folder with Oh No and Roc C and some of the other new cats. So he was paying attention, he knew what was up. I had a couple conversations with him while he was around and he was just a really quiet guy. A dope, dope producer, the best really. Definitely the best.
I can only agree on that. What's next to come from Stones Throw? Is there anything like another Chrome Children album in the making?
ALOE BLACC: Stones Throw is stretching its' wings. Peanut Butter Wolf is signing some really dope music like Dame Funk. He makes the illest Funk music, it's so authentic. You think it's from the 70s. Seriously, the way he's doing it is so off the hook. I got to do some songs with him. Madlib is still recording, Oh No is coming out with an instrumental album. There's always new stuff coming and I'm going to be submitting some avant-garde music as well. So it's going to be helping Hip Hop develop in new and exciting ways, I think. That's what Stones Throw is about.
Do you have some more shows in Germany or Europe after this Festival?
ALOE BLACC: I have a show in Duisburg (Germany); I think it's tomorrow. And I'll be back in Europe in November, December for sure. I'll be doing some shows, probably with a band; do a more soul focused show but Hip Hop will definitely be a part of it as well.
How do you experience the Hip Hop scene over here compared to the US?
ALOE BLACC: The scene out here is a lot more appreciative it seems. In the States or at least in LA the people are spoiled. We get all the shows, we get all the acts, everything comes to LA. So you might not even go to a show because you've already seen the artist too many times or whatever. But out here it seems like people really care. We did shows in some cities where they rarely get certain artists and they were just so happy to see some Hip Hop come through you know. It's dope.
Is there anything else you would like to say?
ALOE BLACC: Stay tuned on my website. My myspace. I'll be putting up a lot of video footage of my life. You will get to see everything through my eyes. Because I always videotape something. I should be video taping this interview right now. (laughs) But yeah, it's what I do. I document a lot of stuff.
Yeah I saw you on stage with the camera earlier.
ALOE BLACC: Yeah, so people get to see a lot of rare footage that you won't get to see anywhere else because I'm behind the scenes.
Thank you very much for your time.
ALOE BLACC: Thank you.
Find Aloe Blacc on myspace: http://www.myspace.com/aloeblaccmusic
*Photos by Wanja Lange