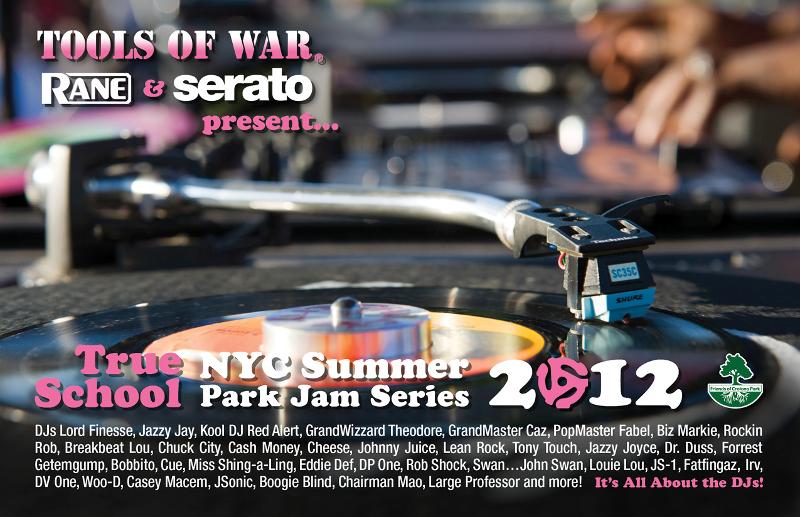 Tools of War grassroots Hip Hop Celebrates 10 Years of True School NYC Summer Park Jams!
In 2003, Lord Finesse introduced Tools of War to former Crotona Park Administrator, Samantha Stone; former Bronx Parks Commissioner, Dorothy Lewandowski and the Friends of Crotona Park to arrange short performances before their Hip Hop Film Fest. Over the past decade, the annual Crotona Park Jams have turned into a massive park jam revival with international attendance!
The true essence of Hip Hop culture isn't on the radio or TV, it's in the places and spaces where it all started, the parks. The epicenter of Hip Hop has always been communal gatherings that are inclusive in nature and welcome people of all ages, races, ethnicities, faiths and cultural backgrounds. The closest you will come to experiencing the magic of Hip Hop's earliest days is at the Tools Of War True School NYC Summer Park Jams. These cultural powwows attract an international audience where practitioners of all the artistic elements are found representing a common spirit. We support each other in a family friendly environment. Our "keep it clean" policy combined with the park rules of no alcohol or drugs ensures a wonderful experience for all ages. With zero incidents of violence in the past decade, we are grateful to all who have attended for helping us represent Hip Hop as it should be, a progressive and uplifting movement.
Tools Of War's True School NYC Summer Park Jams bring the DJ back to the forefront. At a time when much of the Rap industry eliminates the other components of Hip Hop culture, we in fact help put our culture back in it's proper perspective by honoring and focusing on the DJs, dancers and party people. Throughout the years we have had dancers from all around the world share their talent at our jams. Our guest DJs spin for our mixed audiences and expertly supply dancers with a variety of music for the many dance forms represented. From rare grooves to your favorite break beat, we play it all. All dancers are welcomed including B-boys/B-girls, Rockers, Poppers, Lockers and social dancing Party Rockers! Come and celebrate Hip Hop and urban culture by dancing in the many cyphers or just rocking out in the crowd!
Tools Of War True School NYC Summer Park Jams attract legends, pioneers and Hip Hop personalities so make sure to bring an autograph book in the event that one of your favorite celebrities graces you with a personalized signature! We thank God for our continued success and are extremely blessed to have such amazing support for our jams!!
In a continuous effort to preserve the positive influence of Hip Hop and urban culture, Tools Of War invites the global Hip Hop community to experience the most exciting summer events of past 10 years, The Tools Of War True School Park Jam Series!
We Rock and We Don't Stop!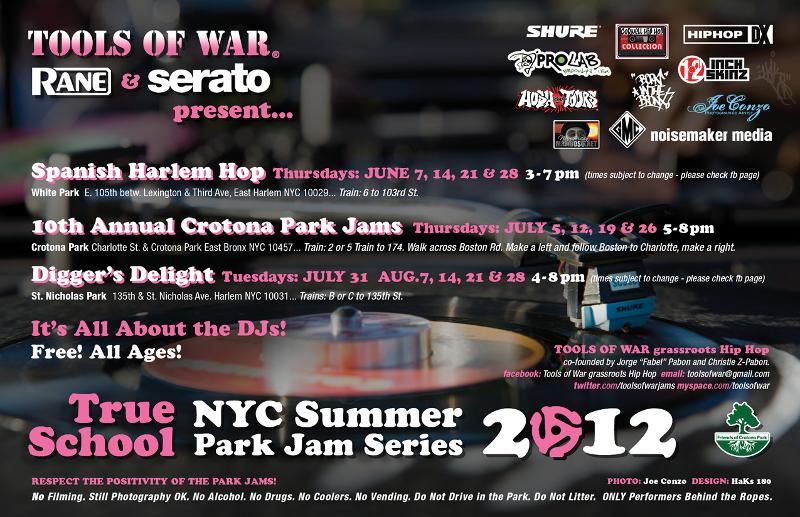 Flyer design by HAKS-180. Photo by Joe Conzo!
Tools of War True School Legendary Line Ups!
2012 Spanish Harlem Hop – White Park, El Barrio – Every Thursday in June

DJs rocking for the B-Boys, B-Girls, Poppers, Lockers, Rockers and Party Dancers!! Every Thursday in June from 3pm – 7pm
@ White Park E. 105th St. between Lexington & 3rd Ave East Harlem NYC. Take the 6 Train to 103rd St.
June 7: Dr. Duss + DJ DP-One + DJ Rob Shock + DJ Johnny Juice (Public Enemy)

June 14: DJ Bobbito aka Kool Bob Love + Who?! Swan…John Swan + DJ Forrest Getemgump + DJ Louie Lou
June 21: DJ Tony Touch + DJ Lean Rock + DJ Cue and DJ Eddie Def from the Bullet Proof Scratch Hamsters
June 28: Popmaster Fabel + DJ Fatfingaz + DJ JS-1
Forever Host: GrandMaster Caz + Invincible Sound by Superman
10th Anniversary of the Crotona Park Jams – Boogie Down Bronx – Thursdays in July

Pioneers and Legends on the Decks! Every Thursday in July from 5pm – 8pm @ Crotona Park on Crotona Park East and Charlotte St. Bronx NYC. 2 or 5 to 174th. Walk across Boston Road. Make a left. Walk to Charlotte St. Right into the Park.
July 5: GrandWizzard Theodore + DJ Cheese + DJ Jazzy Joyce
July 12: DJ Biz Markie + GrandMaster Caz + Popmaster Fabel
July 19: Kool DJ Red Alert + DJ Rockin Rob w/ DJ Chuck City + DJ Lord Finesse
July 26: Afrika Bambaataa + DJ Jazzy Jay & DJ Cash Money
Forever Host: GrandMaster Caz + Invincible Sound by Superman
2012 Digger's Delight – St. Nicholas Park, Harlem – Every Tuesday in August
DJs bring out their funkiest but rarest tracks from back in the days that no one should be able to identify. July 31st and Every Tuesday in August from 4-8pm at St. Nicholas Park on 135th St. and St. Nicholas Ave. Harlem NYC. B or C to 135th St.
July 31: Breakbeat Lou + Biz Markie + Popmaster Fabel + DJ DV-One
August 7: DJ Lean Rock + DJ Woo-D + DJ Casey Macem
August 14: DJ Rockin Rob + DJ Chuck City + DJ Forrest Getemgump + DJ Irv
August 21: DJ Lord Finesse + DJ Boogie Blind + Chairman Mao
August 28: DJ Jazzy Jay + Miss Shing-a-Ling + Large Professor
Forever Host: GrandMaster Caz + Invincible Sound by Superman
Notes: DJ line ups subject to change. In the event of rain, check our social media pages for updates and use your best judgement. We don't cancel til the very last moment – if at all. Please do not bring or sell Alcohol or Drugs in the Parks. No Coolers. No Vending.
No Filming – the DJs reserve the right to film themselves and post their sets if they like but do not give 3rd parties permission to film or upload their sets. Please respect the DJs and the fact that they are DJing for free for the community – you just have to be there! Please do not drive cars in to the parks and please help by properly disposing of garbage into cans and/or trash bags. Recycling is encouraged!
PARK JAM RULES

1. NO Alcohol or Drugs allowed

2. NO Video Filming Allowed

BECAUSE The artists performing have the right to film their OWN set and post it online if they want to share it – it is not for others to decide this for them.

3. Do NOT Attempt to go on or back Stage or Behind the Ropes. Maybe you do it at other shows but we want to encourage professionalism here. Everyone is very special to us but staff & DJs need room and a peaceful place to create the magic that led you to join us!

4. NO Vending – Park Rules are Strict!

5. NO Coolers
6. Please Throw Away Your Garbage

Tools of War


grassroots Hip Hop

Co-founded by Jorge "Fabel" Pabon and Christie Z-Pabon, Tools of War was named with the idea that there are many "tools" one can use in competing or battling within Hip Hop culture: paint, turntables, microphones, one's body, and especially one's voice. Although the name may appear aggressive, the intent behind it's use is actually to inform and educate people regarding not only Hip Hop but many other social and political issues. As we grow, we are finding that it has also become a forum for voicing opinions and sharing ideas which might help in unifying and uplifting people all over the world.