Women's History Month Conference
The Message is in the Music:
Hip Hop Feminism, Riot Grrrl, Latina Music, and More
Twelfth Annual Women's History Month Conference
at Sarah Lawrence College
Bronxville, New York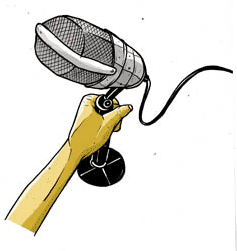 Friday & Saturday, March 5 & 6, 2010
Free and open to the public
Keynote speaker: Carmen Ashhurst, former president of Def Jam Recordings and Rush Communications, and author of the forthcoming book, Selling My Brothers: The Movement, The Media and Me
Music has long served social movements as a sound track, as a means of communication, and as its own arena for activism. While multiple generations of feminists have used music in these ways, it has played especially vital roles for those born since the 1970s. This conference will explore the ways in which young feminists have defined and expressed politics through music and musical cultures and communities. Among the questions we will ponder are: How does music reflect sites of agreement and conflict among different groups of feminists? How have movements like Riot Grrrl and Hip Hop feminism attracted young women to feminist activism? How do young feminists' uses of music compare with those of earlier generations?
Schedule of Events
Unless otherwise noted, all events take place in the Monika A. and Charles A. Heimbold, Jr. Visual Arts Center. Schedule is subject to change.
Friday, March 5, 2010
4:30-8 p.m., Heimbold Lobby
Registration
6-8 p.m., Heimbold 202
Opening Plenary
Welcome:
Tara James, Associate Director, Graduate Program in Women's History, Sarah Lawrence College
Keynote Address:
Carmen Ashhurst, former president of Def Jam Recordings and Rush Communications, and author of the forthcoming book Selling My Brothers: The Movement, The Media, and Me
8-9:30 p.m., Slonim Living Room
Opening Reception
Saturday, March 6, 2010
9 a.m.-4 p.m. Heimbold Lobby
Registration
10-11:45 a.m., Heimbold 202
Plenary Session
Opening Remarks: Priscilla Murolo, Director, Graduate Program in Women's History, Sarah Lawrence College
Plenary Panel
Intersections: Music and Activism
Mimi Nguyen, University of Illinois, Urbana-Champaign
Missing Persons
Fiona Ngo, University of Illinois, Urbana-Champaign
Punk in the Shadow of War
Christa D'Angelica, Assistant Law Clerk, New York Supreme Court
Beyond Bikini Kill: A History of Riot Grrrl, From Grrrls to Ladies
12-1 p.m., Heimbold Lobby
Lunch Break
1-2:30 p.m.
Breakout Session I
Panel
"Give Me Body": Reading the Latina and Black Female Body in Popular Music
Shanna Benjamin, Grinnell College
Hot Sex on a Platter: Lil' Kim and Reconstructions of the Black Female Body
Lakesia D. Johnson, Grinnell College Black Queer Embodiment and Desire in the Music Videos of Me'shell Ndegéocello
Michelle Rocío Nasser, Grinnell College Reading Shakira's Body: Signs of Colombianidad in "Hips Don't Lie"
Panel
Video Vixens
Loron Benton, Georgia State University
"Shake What Your Mama Gave You": The Representation and Performance of the Female Body in Hip Hop Videos
Zoe Spencer, Virginia State University
Shake Dat Azz: Deconstructing the Sociopolitical Foundation of the Neo Jezebel
Marita Buanes, University of Agder, Norway
Flip It and Reverse It: Gender and Race in Missy Elliott's Video "Work It"
Panel
Riot Grrrl
Julia Downes, University of Leeds
"Resist Psychic Death": The Cultural Politics of Riot Grrrl and Queer Feminist Subculture
Marisa Meltzer, Freelance Writer
The Girl Power Revolution
Jamielynn Varriale, SUNY Albany
Embodying Riot Grrl: Fleshly Representations and Bodily Experiences and Images in the Work and Career of Corin Tucker
Round-Table Discussion The Cultural Mode of Masculinity in the American Pop Patriarchy: An Interactive Round-Table Discussion
Jared Demick, University of Connecticut
Kristin Evans, University of Connecticut
Amber West, University of Connecticut
Jeffrey Wickersham, University of Connecticut
2:45-4:15 p.m.
Breakout Session II
Panel
Women Rap
Emma Carmichael, Vassar College
Female Subjectivity within Hip Hop: Rappers, Lyrics, and Performance
Iresha Picot, Temple University
Doorknockers: Black Female Rappers Knockin' on a New Intellectual Discourse
María Santana, University of Central Florida
Her Sexy Stilettos Give a Women's Point of View to Reggaeton: Ivy Queen and Latin Urban Music
Panel
Performing Gender
Nafeesa Nichols, University of The Witwatersrand (South Africa)
Gendered Identities in Black South African Creative Expression: Are We Running in Circles?
Barbara Anna Panuzzo, London South Bank University
Writing Performative Identities: Discursive Traits of Femininity in Hip Hop Journalism
Malaena Taylor, University of Connecticut
Gender and Activism in the Punk Subculture
Jessica Ronald, University of Louisville, Louisville, KY
Potential Feminist Performances of Masculinity in Music: The Hip Hop Subculture of Nerdcore

Panel
Divas
Brian Q. Torff, Fairfield University
Hilary Torff, High School Academic Core Teacher, Marymount Academy, Montreal, Canada
Bessie Smith, Billie Holiday, and Rosetta Tharpe: Black Women Who Shaped a Musical Future
Elisabeth Wronzoff-Dashkoff, Independent Scholar
Who's That Girl?: Pop Stars as the Apogee of 1980s Feminist Discourse
Panel
Say What: The Message in the Music
Vankita Brown, Howard University
Me'Shell Ndegeocello and Womanist Music
C. Chic Smith, Howard University
African American Women in Hip Hop Music and Videos
4:30-6 p.m.
Breakout Session III
Workshop
Sophie's Parlor Radio Collective
Facilitators:
Lakeisha R. Harrison
Kimberly C. Gaines
Andrea Thompson
Panel
Love, Sex, and Magic: Hip Hop Feminism as a Tool for the Creative Renegotiation of Black Female Desire
Emily Unnasch, University of Alabama
"F Love": Sex, Violence, and Hip Hop's Turbulent Struggle to Define Love against the Grain
Brittney Cooper, University of Alabama
"She's a Movement by Herself": Black Sexual Politics and Independent Black Womanhood in the Hip Hop Feminist Era
Maigen Sullivan, University of Alabama
"They Dykin": The Commodification of Lesbian Desire in Mainstream Hip Hop and Underground Attempts at Reclamation
Tammy Owens, University of Alabama
"It Must Be Your Ass": The Commodification of the Female Booty from Slavery to the Present
Round-Table Discussion
Rhymes of Dissent: Identity Politics within Underground Hip Hop
Viviana Bernal, Sankofa Institute for Youth Development Inc.
Katie McGhee, Montclair State University
Maria Roumiantseva, Montclair State University
Panel
WomynSong
Amity Bryson, Avila University
Women's Music Festivals, Politics or Commodity?: The 1970s Experience vs. Lilith Fair
Elizabeth K. Keenan, Columbia University
If Liz Phair's Exile in Guyville Made You a Feminist, What Kind of Feminist Are You?: Heterosexuality, Race, and Class in the Third Wave
Andrea Fehring, University of Northern Iowa
"Womyn Only Space at the Michigan Womyn's Music Festival Is Separatism Based on Biological Sex, in Fact, Feminist?"
6-6:30 p.m., Heimbold Lobby
Closing Reception
6:30-8:30 p.m., Slonim Living Room
Alumnae/i Reception for the Graduates of the Sarah Lawrence College Women's History Program