RHINO CELEBRATES 25 YEARS OF WILD STYLE

Groundbreaking Film about the Origins of Hip-Hop Culture Featuring Old
School Icons Grandmaster Flash, Fab 5 Freddy and Busy Bee Is Expanded with New Extras for a Special Anniversary Edition

Available from Rhino Entertainment

WATCH the Wild Style trailer: http://www.youtube.com/watch?v=Hee38-NV11E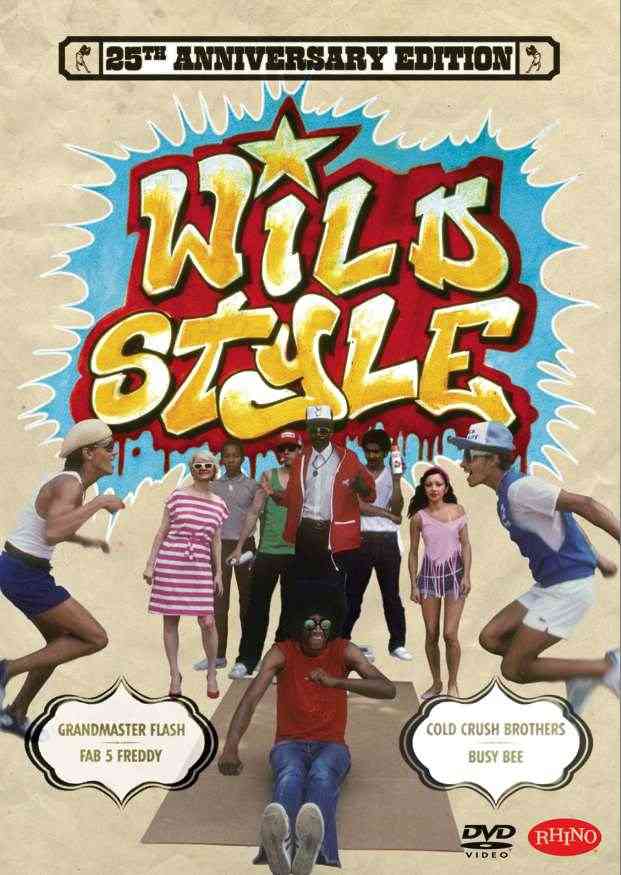 Filming on location in the South Bronx in 1982, director Charlie Ahearn captured a rare look at the true origins of hip-hop culture with his groundbreaking film WILD STYLE. Featuring appearances by such legendary and influential old-school giants as Grandmaster Flash, Fab 5 Freddy, Cold Crush Brothers, Rock Steady Crew and Chief Rocker Busy Bee, this groundbreaking film is recognized worldwide as the premier hip-hop film and was inducted by the Rock and Roll Hall of Fame as one of the 10 best rock 'n' roll movies of all time. To celebrate the 25th anniversary of this captivating time capsule, Rhino will release a special edition of the DVD expanded with new extras including a mini documentary, footage of a 20th anniversary concert, interviews and unreleased photos. WILD STYLE will be available October 23 at all retail outlets and .comfor a suggested retail price of $14.95.



The DVD contains a digital transfer from the original 16mm film with commentary by director Ahearn and Fab 5 Freddy. Several extras debut on the special anniversary edition of WILD STYLE including a mini documentary featuring interviews with Fab 5 Freddy, Lee Quinones, Busy Bee, Lady Pink and Ahearn plus footage from the 20th anniversary concert held at the original amphitheater, a "Bongo Barbershop" DJ battle in the Bronx featuring Grand Master Caz, a new musical short with Busy Bee titled "Busy On The Beach," scenes from the 25th Anniversary Wild Style Reunion Show and an expanded gallery with unreleased photos.

The film follows the exploits of maverick tagger Zoro (real life graffiti artist Lee Quinones), whose work attracts the attention of an East Village art fancier (Patti Astor) and is commissioned to paint the stage for a giant Rapper's Convention. An authentic documentation of the early days of hip-hop in the boroughs of New York, everything in WILD STYLE is real — the story, style, characters, and most of the actors, are drawn from the community.

The film shows many early hip-hop personalities in action before they went on to acquire national acclaim. Chief among these is Fab 5 Freddy, who hosted Yo! MTV Raps from its inception and plays the brash rap promoter Phade in the movie. Producer/director/writer Ahearn credits Freddy for the film's vision of hip-hop as a unified culture. WILD STYLE may not have been the first movie featuring rappers, but was the first to link graffiti, break dancing, DJing and document the birth of hip-hop nation.

DVD EXTRAS: <
A documentary short featuring footage from the 20th Anniversary concert and
new interviews with: Fab 5 Freddy, Busy Bee, Lady Pink, Charlie Ahearn
Bongo Barbershop featuring Grandmaster Caz
Busy Bee interview
Expanded gallery with unreleased photos

Rolling Stone has Wild Style as the #7 music video of all time on their website.