$hamrock Champions The WyteRapper $how LP on March 15!
VH1 The White Rapper Show Star Teams with Lil Wyte and Select-O-Hits
Features with Lil Wyte, Crime Mob, Juney Boomdata & More!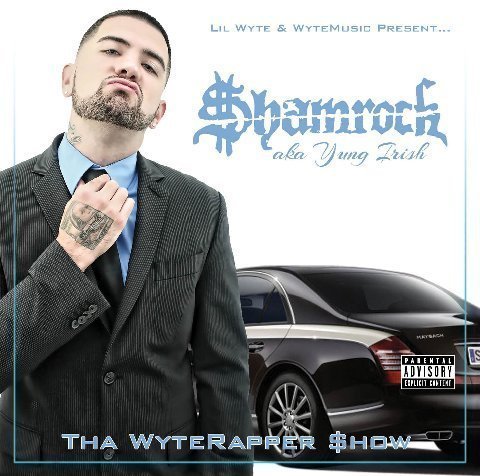 Atlanta, GA — Since his victory in VH1's reality competition The White Rapper Show in 2007, $hamrock has been gearing up for his official debut album, and has also done some good deeds with his $100k prize money. On March 15, 2011, the Georgia native will finally release his full-length solo album in conjunction with Hypnotized Minds member Lil Wyte's WyteMusic imprint and Select-O-Hits.
$hamrock's album, aptly titled The WyteRapper $how, will feature appearances from Lil Wyte and WyteMusic's Partee, Asylum's Juney Boomdata, Crime Mob and more. Production includes tracks from Luney Tunez

(Gucci Mane, Gorilla Zoe, Shawty Lo),

Ribah On The Beat

(B.o.B., Killa Mike), Lil Jay (Crime Mob) and WyteMusic beat maestros Lil Awree and Marco Dane.
After his win on The White Rapper Show in early 2007, $hamrock appeared on various shows like Nick Cannon's Wild N Out, Wilmer Valderrama's Yo Mama and BET Black Carpet. He donated $10k of his prize money to Smile Train to help children born with Cleft Lip, and began working on his first official release.
In the summer of 2008, G.E. Entertainment released $ham's debut EP Live From Decatur, which included "Entourage," a club-friendly hit that received airplay on radio stations across the country. $hamrock also toured the country, and developed relationships with recognizable brands such as Texas-based YUMs footwear and apparel, which boasts successful campaigns with the likes of Soulja Boy, Sean Kingston and Dorrough.
For his work on his full-length debut The WyteRapper $how, teaming with Lil Wyte and the Select-O-Hits team in Memphis made perfect sense to $hamrock.
"WyteMusic and Select-O-Hits are incredible because they actually watched the TV show and understand completely where I come from, and who I am trying to reach," $hamrock explains. "They are working towards the vision I have, and the support has been amazing because they hustle hard and grind like artists instead of traditional labels. Not to mention, they have legendary resumes so they know what they're talking about!"
While $hamrock is confident the new album represents this stage of his life and career properly, he does have some personal favorite songs on the project.
'Str8 From Tha Dec' is my life story, and its produced by Lil Jay of Crime Mob," $hamrock say. "'Penitentiary' is the first song me and Lil Wyte recorded together for the project. The topic is real as hell, and it's the reason things came together in the first place. 'Name In Lights' is also important, because it epitomizes the dream of all lyricists to one day be recognized by the world as an incredible talent. I've had that moment before, and I hope every aspiring rapper gets to experience it in their career. The beat is by a female producer, Amber Cheri, who also sings the hook."
$hamrock fuses elements of his college education (University of Georgia) and intense grass roots hustle to create various levels of unadulterated Hip Hop. Dedication to his craft shines through in every lyric $ham writes, and the young entertainer feels assured that people will be able to relate to his music on a personal level.
"I want people to know that this album is a product of my grind, my struggle, my success and my pain," $hamrock expresses. "As an artist, I want people to understand that making great songs is about being true to yourself and telling your story. People will def hear the hustler in me, but they will also hear the knowledge that I have picked up from the game."
The WyteRapper $how tracklist
01. Yung Irish Intro – prod. by Luney Tunez-N-Yo Area
02. Count Your Money – prod. by Luney Tunez-N-Yo Area
03. Name In Lights ft. Lil Wyte, Partee & Amber Cheri – prod. by Amber Cheri
04. Str8 From Tha Dec – prod. by Lil Jay
05. Penitentiary ft. Lil Wyte – prod. by Ribah On The Beat
06. Big $tacks ft. Juney Boomdata – prod. by Juney Boomdata
07. Old Skool – prod. by Lil Awree
08. Round Tha Corna ft. Lil Wyte & Partee – prod. by Crazy Mike
09. Stomp a Ho – prod. by Lil Awree
10. 5 To 10 ft. Crime Mob & Luney Tunez-N-Yo Area – prod. by Luney Tunez-N-Yo Area
11. Top Notch ft. WyteMusic Contest Winner – prod. by Ribah On The Beat
12. Right Now – prod. by Marco Dane
13. Million Dollar Outro – prod. by Lil Awree
"I don't know if I ever thought this would actually happen. I know I wanted it to, but I think rap really was just something for me to believe in and take my focus off everything negative in my life."
Not exactly the sentiment expressed by most of today's brash, arrogant crop of MC's. But then again the story of Atlanta lyricist $hamrock is anything but ordinary. On March 15, 2011, $hamrock will unveil his full-length debut album Tha WyteRapper Show in conjunction with Memphis-based labels WyteMusic and Select-O-Hits.
Best known for taking home the prize on VH1's White Rapper Show competition in early 2007, $hamrock also appeared on Nick Cannon's Wild N Out, Wilmer Valderrama's Yo Mama and BET Black Carpet.
$hamrock is also proud of his musical work with artists such as B.o.B., Bohagon, Jackie Chain, Kia Shine, Trillville and Bonecrusher. He has co-developed several mixtape projects, including work with DJ Teknikz for White Trapper Show and DJ Burn One on Inter$tate Muzik. Internationally, $ham linked up with German DJ's Noize to release Independently Major and Big Headline for The Champ Is Here and Hood Kitchen.
Fast forward to 2011, and $hamrock is poised to take retail by storm after aligning with Hypnotized Minds sensation Lil Wyte for the appropriately-titled Tha WyteRapper $how LP. In a joint venture through Wyte Music and Select-O-Hits based out of Memphis, TN, $hamrock's debut album aims to satisfy his patiently-waiting fanbase.