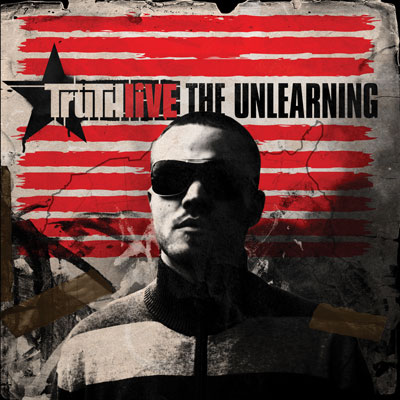 DOWNLOAD: Truthlive – Tormented Genius Prod. By Martin SLO
Continuing to build on the early buzz of his recently leaked "Shoot Me Down," TRUTHLiVE is proud to bring fans "Tormented Genius," the second leak off his upcoming free EP, The UnLearning. For the track, TRUTHLiVE teams up with producer Martin SLO and DJ Tonytone who provide the musical foundation for his confident rhymes. "Like a lot of my music, this song is a challenge of the status quo," explains TRUTHLiVE. "While a lot of my music has similar thematic subtleties, this particular track is me speaking about what comes naturally and easy to me, and how those things sometimes seems complex or difficult for others to relate." TRUTHLiVE proves his point to a tee, rapping, "…they must not get it though, my brain works in rhymes/ My trying to flow is like the sun trying to shine/ I guess you could say I bring light to lines/ And in due time then bring life to minds"
As Martin SLO's funk chops and driving bass line pushes the song forward, DJ Tonytone pulls the track together with deft scratches, the perfect compliment to TRUTHLiVE's rhymes. TRUTHLiVE says, "The cuts are the perfect icing to an already flavorful and funky cake." The Unlearning, which will be offered as a free download in the coming weeks, is the precursor to TRUTHLiVE's forthcoming album, Patience, and features production by Tha Bizness, who have worked with 50 Cent and Lil' Wayne, as well astracks crafted by The ARE, Vitamin D, J-Zone, and TRUTHLiVE himself.
TRUTHLiVE's full-length debut album Patience, produced entirely by Jake One, will be available April 20, 2010 via Interdependent Media.
The Background:

Evan "TRUTHLiVE" Phillips, owner and founder of Interdependent Media, has certainly made his mark in the music industry with his wide range of talents. As an emcee, DJ, entrepreneur, and artist, TRUTHLiVE has had his hands in everything from a very young age. After a traumatic adolescent period where his health was at risk, three heart surgeries proved the artist to be quite a fighter. He explains to his new listeners, "The name TRUTHLiVE doesn't mean that I'm proclaiming myself as the truth, end-all be-all; it's more of a reminder to myself on how to conduct my life and career." The MC best summates, "My music is my truth and my life." That meaningful music will arrive on April 20th in the form of Patience, TRUTHLiVE's debut release, courtesy of Bay Area label Interdependent Media.
About Interdependent Media:

Founded in 2006 in the Bay Area by Evan Phillips, Interdependent Media has built unique strengths in the development, production, and marketing of recorded music via new methods of marketing and promotion. Armed with a comprehensive understanding of both traditional and emerging methods of marketing, iM has successfully created multi-faceted methods of raising awareness and interest in their projects. Industry veterans Ian "ID" Davis and Dominic Del Bene head operations at iM and are credited with discovering and/or developing artists such as 9th Wonder, Little Brother, Tanya Morgan, Blackalicious, Del the Funky Homosapien, the Hieroglyphics and more. In 2010, iM will be releasing multi-media projects from artists Donwill, TRUTHLiVE, Canibus, Von Pea, A-Plus, and more. For more information, please visit