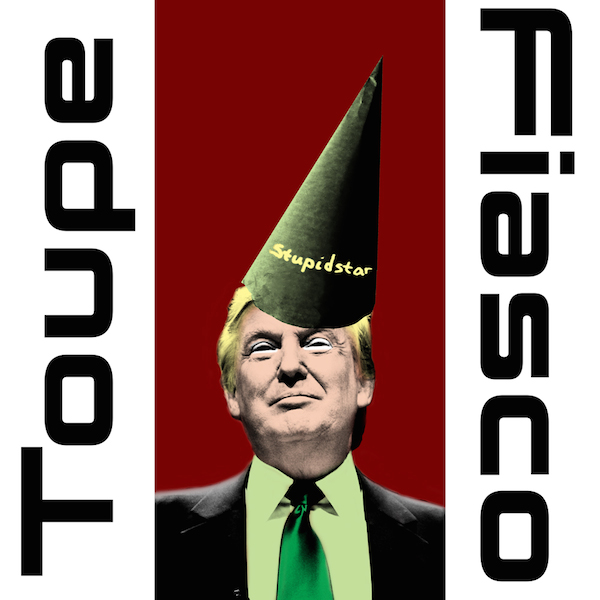 Donald Trump's emcee alter ego aka Toupe Fiasco is back with his new single "Stupidstar"
He stepped away from the mic for a while to do some really really terrific things but with the presidential campaign in full gear he thought it was time to do the something even more terrific. Rhyme.
So now, Toupe Fiasco is back like he never left and telling it like it is. With "Stupidstar" Toupe, like his Donald Trump identity, does what a superstar is supposed to do – bring attention and the cameras out.
"Stupidstar" sees the release of the single and the all-new simply amazing music video. The single is coupled with Toupe's previous release "Fish Hook" to form a terrific EP.
Lyrics
Yea
It's Toupe Fiasco baby
I'm back, i'm always on top
even if i don't fit right
ha
I'm the best
everybody else is the worst
yea
Uh A fresh cool young mule
Trottin' across the border with rapists too
All poor people are the same from my point of view
Mexico sends them here to kill me and you
and China's in cahoots so they're killing us too
but i'm a businessman and those deals are too true
so cop my line of suits sewed by their youth
But I'm a nice guy, I employ a few Jews
The blacks, and latinos all love me too too
No Republicans above me, you
can't satisfy Bill, Hill, that's the ugly truth
I'm politically incorrect like I'm Bill Maher's boo
And my mom's not an ape so I'll win that suit
Obama was cool but I'm running too
so i'll say that his accomplishments are few
and replace Obamacare with something terrific too
Negotiator not debater, whether I win or lose
Jeb's miserable, Walker's a rube
But I can live with a ticket with Ted Cruz
If GOP don't treat me nice I'm like what it do?
To libertarians and staring at them in the booth
If I lose the nomination, it'll be an independent coup
Imagine me as president , a man with no cooth, cooth
My open mouth is all that you need for proof, proof
Ain't no low to which I wouldn't stoop, stoop
Like disregarding McCains refus-al
to go home without the rest of his troops
I have a big mouth for feet you see it fits two
I'll say anything like I invented Kung Fu
and before that the Art of War, who's Sun Tzu?
Anything for press I'll even stress taboos
Anything for press so they address me in the news
Anything for press just so I can get those views
yea, Toupe Fiasco baby
I am what I say I am
I'm here,
Have no fear
The cameras are here
Of course the cameras are here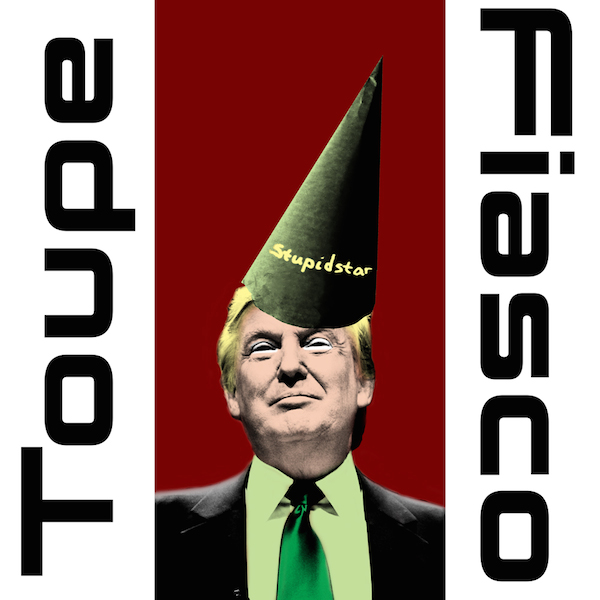 Originally a real estate developer, Toupe Fiasco, nurtured his love for Hip Hop through, as he has put it in the past, his very "good relationship with the blacks." Toupe was unable to resist the allure of the game and had to give in to his emcee desires and the calling he was receiving from his newfound talent. You may talk about him behind his back or you may even sit right in front of him and talk about him to his face amidst a room full of hundreds of people while being televised live nationwide but Toupe still will stand strong in his resolve. Toupe's first single "Fish Hook" was released to immediate and unprecedented acclaim and was mentioned by the legendary Chuck D. Toupe Fiasco is here and back and umm running for president.