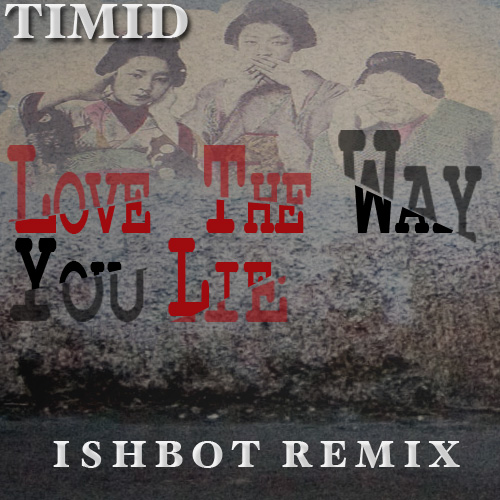 DOWNLOAD: Timid – Love The Way You Lie (Eminem f. Rihanna) ISHBOT Remix 
YouTube: http://www.youtube.com/watch?v=R1cVUXT3EjU
Timid Doesn't Love The Way You Lie
Timid remixes the Eminem hit "Love The Way You Lie" that features Rihanna expanding the idea of the original of relationship turmoil to the societal zeitgeist. Timid's point is that we apparently, as the hook suggests, "Love the way you lie" and "Like the way it hurts" the way we continue actions that may satisfy us in the present while fooling ourselves that they aren't ultimately working against ourselves.
Alternative Links
YouTube: http://www.youtube.com/watch?v=R1cVUXT3EjU
SoundCloud:
Lyric Excerpt
Timid
image of a hustler when we're just the customer
you've become accustomed to the customs that customed ya
sheep in wolfs clothing as long as its name brand
shots popin the air who cares where the shells land
About Timid
Timid has received an immensely positive reception on several of the major Hip Hop websites, featured on numerous mixtapes worldwide and has received radio play in Florida, Africa, Canada, and Japan. As well as stage stops from New York to Tokyo and television and radio appearances from Washington DC to Australia. Timid has shared the stage with artists such as Travis Barker & DJ AM, Warren G, Paul Wall, Jeru The Damaja, CunninLynguists, A-Alikes, Agallah of Dipset and Pack FM and has worked along with Hip Hop veterans like Mikey D (Mikey D & The LA. Posse/Main Source), Granddaddy IU, Edo G, Lin Que (X-Clan, MC Lyte) and Domingo. Along with features and production on releases distributed by legendary Hip Hop label Rawkus Records and Japan's Handcuts Records, Timid is not one to sleep on. Timid's current solo album release is No Time For The Jibba Jabba and collaborative effort as a part of The Fam is Family Business.
Website: http://www.TimidMc.com
Myspace: http://www.myspace.com/Timid
Twitter: http://www.twitter.com/timidmc