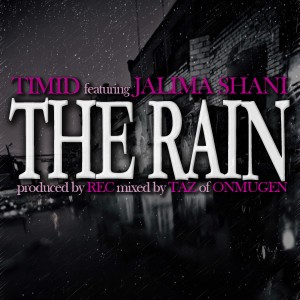 DOWNLOAD: Timid featuring Jalima Shani – "The Rain"
"The Rain" joins Timid and Philadelphia femcee Jalima Shani together under the umbrella of societal and cultural reflection. French producer Rec lays the foundation and Japan based Taz of OnMugen blends the mix for the duo's verbal expression. Timid takes a first person approach to personal struggles everyone faces whereas the historical and cultural avenue is relayed by Jalima Shani.
Lyric Excerpt
Timid
Now I see it's so clear so when them clouds don't break
Them drops might hit me but the wet won't take
Its like, these Romans want martyrs to bleed
But the more that we see makes it harder to grieve
Jalima Shani
eden's jungle, snack on the meek and humble
number one rule is die for the hustle
but kings won't live for the God in our struggle
to turn gold from dust of the concrete rubble
About Timid
Timid has received an immensely positive reception on several of the major Hip Hop websites, featured on numerous mixtapes worldwide and has received radio play in Florida, Africa, Canada, and Japan. As well as stage stops from New York to Tokyo and television and radio appearances from Washington DC to Australia. Timid has shared the stage with artists such as Travis Barker & DJ AM, Warren G, Paul Wall, Jeru The Damaja, CunninLynguists, A-Alikes, Agallah of Dipset and Pack FM and has worked along with Hip Hop veterans like Mikey D (Mikey D & The LA. Posse/Main Source), Granddaddy IU, Edo G, Lin Que (X-Clan, MC Lyte) and Domingo. Along with features and production on releases distributed by legendary Hip Hop label Rawkus Records and Japan's Handcuts Records, Timid is not one to sleep on. Timid's current album release is No Time For The Jibba Jabba.
Website: http://www.TimidMc.com
Myspace: http://www.myspace.com/Timid
Twitter: http://www.twitter.com/timidmc
About Jalima Shani
Jalima is one of the most dynamic artists on today's music scene. Her style can be described as a unique blend of poetic lyrics, passionate delivery, and intelligent wordplay contained within a currant of constant positive energy. Growing up amid the culturally diverse artistic scenes of Philadelphia Pennsylvania her sound developed into a fluid combination of a deep respect for history and innovative style. With topics that usually in some way deal with appreciating who you are as a person and recognizing your own self worth she creates bridges through music that breaks down barriers of pretense.

http://www.myspace.com/jalima