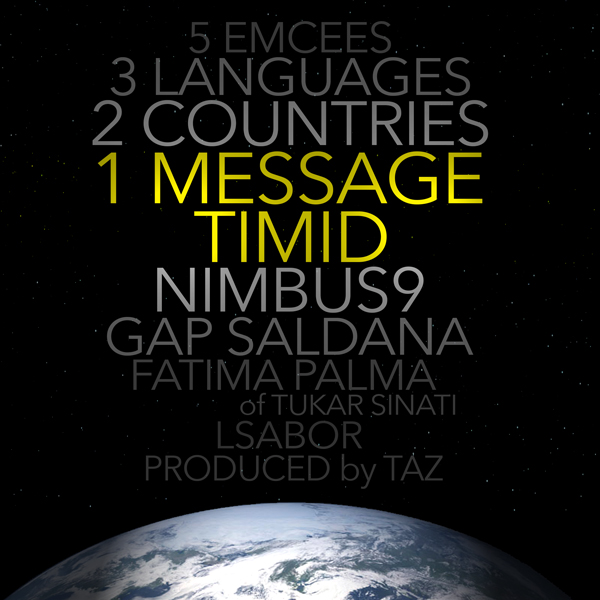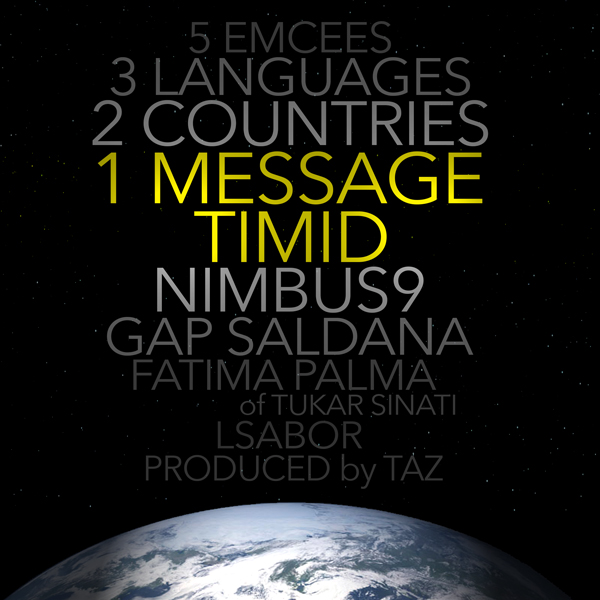 DOWNLOAD: Timid feat. Fatima Palma, Nimbus9, Gap Saldana, and LSabor – 1Message
PR:
Timid joins forces with Manila's Fatima Palma aka the Nurse Rapper of Tukar Sinati and emcees Nimbus9, Gap Saldana, and LSabor to deliver a unified message with "1 Message". Five emcees, rapping in three languages (English, Tagalog, Chavacano), from two countries (the United States and the Philippines) on opposite sides of the globe express concerns that resonate across all borders. "1 Message" was produced by frequent Timid collaborator Taz of Onmugen and was recorded in the heart of Manila at Camino Nuevo Music Lab.
"1 Message" is initially being distributed through social media to music fans in exchange for spreading the message.
Lyric Excerpt
Timid
the poor get poorer and the rich resort to gimmicks
and first world problems become a meme of the privileged
there's better ways of living, is it socialist?
maybe if that's what you call giving, or you're just be emotionless
About Timid
Timid has received an immensely positive reception on several of the major Hip Hop websites and covered by organizations like Ebony and USAToday. He's had stage stops from New York to Tokyo and television and radio appearances from Washington DC to Australia. Timid has shared the stage with artists such as Travis Barker & DJ AM, Warren G, Paul Wall, Jeru The Damaja, CunninLynguists, A-Alikes, Agallah of Dipset and Pack FM and has worked along with Hip Hop icons like Granddaddy IU, Edo G, Lin Que (X-Clan, MC Lyte) and Domingo. Timid is also a member of the collective known as Team Fearless with veterans like Mikey D (Mikey D & The LA. Posse/Main Source). Along with features and production on releases distributed by legendary Hip Hop label Rawkus Records and Japan's Handcuts Records, Timid is not one to sleep on.
Website: www.TimidMc.com
Twitter: www.twitter.com/timidmc
About Fatima Palma
Dubbed the "Nurse Rapper" for her position as an East Avenue Medical Center nurse in Manila, Fatima Palma rose to nationwide attention in her home country of the Philippines after a video went viral of her rapping for one of her patients was uploaded to Facebook, by the daughter of the patient, thanking Palma for the joy she brings to those she cares for. Her life story was dramatized on the award winning series Maalaala Mo Kaya (MMK). Palma has performed for years around the country as a rap artist, event host, and emcee. She is a member of the group Tukar Sinati.
Twitter: twitter.com/fatimapalma