Thug Life: Race, Gender, and the Meaning of Hip-Hop
by Michael P. Jeffries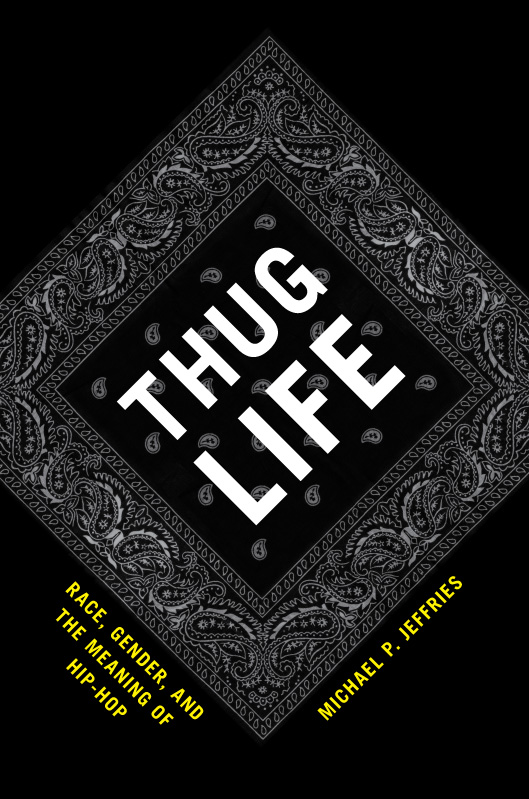 A Look Inside: Thug Life: Race, Gender, and the Meaning of Hip-Hop
Introduction:
State of the Hip-Hop Union: The Beginning, Culture for Sale, Cultural Appropriation and Masculinity, My Contribution, Plan of the Book, Signifying, The Problem of Textuality, Summary
The Meaning of Hip-Hop

"I am Hip-Hop", Hip-Hop as a Social Movement,

The Respondents, Hip-Hop Is…, Feeling It, Summary

 

From a Cool Complex to a Complex Cool

Understanding the "Cool Pose", The Roots of Cool Pose,

Cool Pose and Hip-Hop, The Hood Comes First, From Hood Living to Black Authenticity, Black Authenticity and the American Dream, Authenticity and Complexity

 

Thug Life and Social Death

Welcome to Thug Life, Structure and Culture of Black Criminality, Criminal Justice Policy and Outcomes, Discourse, From Gangsta Rap to Thug Life, Thug Life and Social Death, Tupac: Original Thug, Offend and Conquer, Nihilism: Ride or Die, Get Rich or Die Tryin', Bonnie and Clyde Romance, Shorty Wanna Thug (No Homo), Thug Love and the Pearly Gates

 

The Bridge: Summary of Chapters 2 & 3

 

Hip-Hop Authenticity in Black and White

On the Real, Musical Taste and Authenticity, Evaluating Hip-Hop, Flowing and Signifying, Mapping Hip-Hop Authenticity, Is it Really Real?, Thuggish Blackness, Summary

 

Parental Advisory: Explicit Lyrics

Hip-Hop and Moral Panic, B*tches Ain't Sh*t, The "N-Word", Gangsterism and Criminality, Summary

 

Conclusion: The Last Verse

Research Summary, Methodological and Theoretical Contributions, Substantive Implications

 

Epilogue: Obama as Hip-Hop Icon

 

Appendix: Qualitative Methodology

Cultural Sociology and Hip-Hop Ethnography, Sampling,

The Universe of Hip-Hop Music, The Interview Schedule, Interview Data Analysis

What Does Hip-Hop Mean to You?

Thug Life is the first academic book that investigates the meaning of Rap music, the most visible and commercialized element of Hip-Hop, by talking to everyday people, rather than artists, or music critics. Michael P. Jeffries invites readers into a conversation, as fans explain what Hip-Hop means, what makes good Rap, and what to make of all the controversy surrounding Hip-Hop culture. The honest opinions of Rap fans, both Black and White, are mixed in with reflections on racial identity, gender politics, and authenticity, as the book speaks to issues far beyond Hip-Hop studies. The result is an earnest, sophisticated account that rejects romanticism, and reveals Hip-Hop's full potential as a world rich with virtue and vice.

 

ABOUT Michael P. Jeffries

Michael P. Jeffries is Assistant Professor of American Studies at Wellesley College, where he teaches courses on popular culture and the politics of race and ethnicity. His writing appears in both academic and popular outlets, such as The Atlantic and The Guardian (UK) – work that includes articles and essays about President Obama and contemporary racism, Hip-Hop feminism, love and Hip-Hop, race and sports, and a host of other topics. Follow Michael P. Jeffries on Twitter @M_P_Jeffries and please visit

 

Praise for "Thug Life"

"Michael Jeffries has written an important book. Beautifully written and replete with original insights, Thug Life brilliantly integrates interesting interviews of black and white hip-hop listeners with a careful textual analysis of hip-hop narratives… a must-read for scholars and students interested in literary and cultural criticism as well as the sociology of race, class, and gender."

– William Julius Wilson, Harvard University, author of More than Just Race: Being Black and Poor in the Inner City.

 

"A truly inspired analysis of masculinity and thug identities by embracing the too often ignored components of compassion, vulnerability, and love. This is a necessary and important intervention in hip-hop studies."

– Murray Forman, Northeastern University, editor of That's the Joint!: The Hip-Hop Studies Reader

 

"This is a finely developed and sophisticated analysis of the complex terrain of hip-hop… Jeffries chooses to probe the vibrant world that hip-hop continues to create with honesty and integrity."

– S. Craig Watkins, University of Texas at Austin, author of Hip-Hop Matters: Politics, Popular Culture, and the Struggle for the Soul of a Movement.