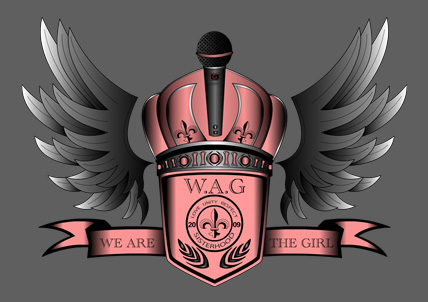 The "We Are the Girl Movement" makes history with its first release, "Suga-Coated." For the first time since the inception of Hip Hop, nine female emcees assault the microphone without any help from their male counterparts. "Suga-Coated" features True School Veterans who have been in the game for quite some time, Underground Royalty as well as Up-and-Coming Talent who are eager to claim their spot in this male-dominated industry. One has no choice but to succumb to the incredible skill and energy exuding from this track. Whoever said, "Female Emcee's can't hold their own" obviously hasn't had the pleasure of sampling the skills portrayed on this banger. In addition to the genuine talent of Mala Reignz, Knewdles, Bless Roxwell, Lin Que, Alana, Paula Perry, Toni Blackman, J-Boo & Tiye Phoenix, is the sultry voice of newcomer Rachel Walker."Suga-Coated" displays the undeniable talent of women of many ethnicities and cultures.
"We Are the Girl" aka WAG was formed to give women in Hip Hop a platform to "Follow their Dreams" and make careers out of what they love doing most. It seems as though women have not been given a fair share within the Hip Hop community. It's time. We must claim our voice. We must claim our seat at the throne and be the "True Queens' that we were born to be.
"We Are the Girl" believes in giving back to the community. All the proceeds from the download of "Suga-Coated"are going to the global leader of the breast cancer movement, Susan G. Komen for the Cure. "Suga-Coated" was officially released on October 1st, 2009, just in time for Breast Cancer Awareness Month. Although October is designated for Breast Cancer Awareness, we all know that it is a day-to-day issue that needs our support.
Support Women, Save the Hip Hop Culture, Heal the World.
You can purchase "Suga-Coated" by going to . The track is $.99 to download. If we all chip in, we can make a difference.
"We Are the Girl" website: www.wearethegirl.com <>
Susan G. Komen for the Cure website: http://ww5.komen.org/