THE ANTHOLOGY OF RAP
Edited by Adam Bradley and Andrew DuBois
Foreword by Henry Louis Gates, Jr.
Afterwords by Chuck D and Common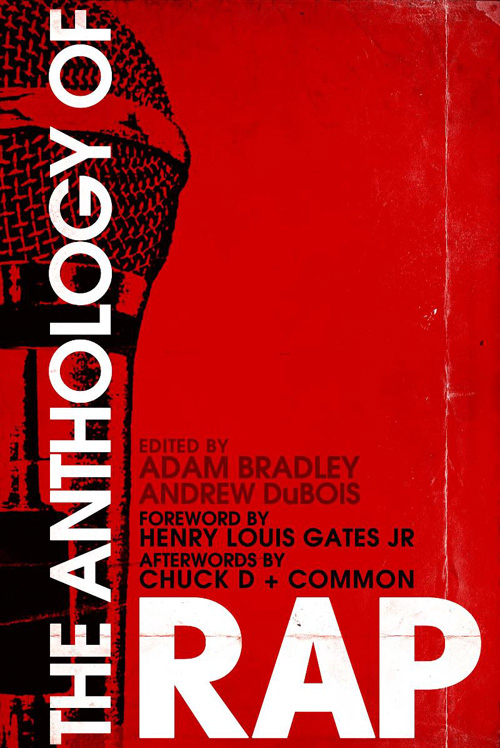 THE ANTHOLOGY OF RAP
Pages: 880
To be published: Nov. 2. 2010

New Haven – Yale University Press is pleased to announce the publication of
THE ANTHOLOGY OF RAP
(publication date
November 2, 2010
), edited by
Adam Bradley
and
Andrew DuBois
. Featuring a foreword by
Henry Louis Gates, Jr
. and afterwords by
Chuck D
and
Common
, this groundbreaking collection is the first anthology of lyrics to chart rap's recorded history from the late 1970s to the present day.
From the school yards of the Bronx to the tops of the Billboard charts, rap has emerged as one of the most influential cultural forces of our time. In THE ANTHOLOGY OF RAP, Bradley and DuBois demonstrate that rap is also a wide-reaching and vital poetic tradition born of beats and rhymes.
This pioneering anthology gathers close to three hundred lyrics written over more than thirty years. It features both the classic lyrics that have come to define the genre, including
Grandmaster Flash & the Furious Five
's "The Message" and
Eric B. & Rakim
's "Microphone Fiend," as well as gems like
Blackalicious
's "Alphabet Aerobics" and
Jean Grae
's "Hater's Anthem."
Both a fan's guide and resource for the uninitiated, THE ANTHOLOGY OF RAP showcases the inventiveness and vitality of rap's lyrical art. The volume features an overview of rap's poetics, introductions to the major historical periods in rap's development and discussions of dozens of individual artists and groups. Enter the book, and experience the full range of rap's artistry – a rich poetic tradition hiding in plain sight.
PART I
1978 – 1984
OLD SCHOOL
Afrika Bambaataa,
Cold Crush Brothers,
Kurtis Blow, Brother D with Collective Effort, Eddie Cheba, DJ Hollywood, Funky Four + 1, Grandmaster Flash and the Furious Five, Lady B, Sequence, Spoonie Gee, Sugarhill Gang,
Treacherous Three, Sweet Tee
PART II
1985-1992
GOLDEN AGE
Beastie Boys,
Big Daddy Kane,
Boogie Down Productions, De La Soul, Eric B. & Rakim, Gang Starr, Ice-T, Kool G Rap, Kool Moe Dee,
LL Cool J, MC Lyte, NWA,
Public Enemy,
Queen Latifah, Run-DMC, Salt-N-Pepa, Schoolly D, Roxanne Shante,
Slick Rick, Too $hort,
A Tribe Called Quest, Ultramagnetic MCs, X-Clan

PART III 1993-1999
RAP GOES MAINSTREAM
Arrested Development, Bahamadia, Big L,
Big Punisher,
Bone Thugs-N-Harmony, Busta Rhymes, Canibus, Chino XL, Common, Digable Planets, DMX, E-40, Foxy Brown, Freestyle Fellowship,
The Fugees, Goodie Mob, Hieroglyphics, Lauryn Hill, Ice Cube, Jay-Z, KRS-One, The Lady of Rage, Lil' Kim, Mia X, Mobb Deep, Nas, The Notorious B.I.G., Outkast, Ras Kass,
The Roots, Scarface,
Snoop Dog, 2Pac, Twista, UGK, The Wu-Tang Clan
PART IV 2000-2010
NEW MILLENNIUM RAP
Aseop Rock, Atmosphere, Beanie Sigel, Blackalicious, Brother Ali, Cam'ron, Cee-Lo, The Clipse, dead prez, Devin the Dude, DOOM, Eminem, Eve, Eyedea & Abilities,
Lupe Fiasco, 50 Cent,
Jean Grae, Immortal Technique, K'Naan, Talib Kweli, Lil Wayne, Little Brother, Ludacris, M.I.A., Pharoahe Monch, Mos Def, T.I., Kanye West,
Young Jeezy
LYRICS FOR FURTHER STUDY
David Banner, Binary Star, Biz Markie, Black Sheep, Camp Lo, Crooked I,
Das EFX, Deep Dickollective, Drake, DJ Jazzy Jeff & The Fresh Prince, Edan, Missy Elliot, EPMD, The Fatback Band feat. King Tim III, The Game (feat. 50 Cent), Jadakiss, Jay Electronica, Jedi Mind Tricks (feat. R.A. the Rugged Man), Jeru the Damaja, Joell Ortiz, Juvenile, Kardinal Offishall, Medusa,
Naughty by Nature, Nelly, Nice & Smooth, O.C., Pete Rock & C.L. Smooth,
The Pharcyde,
Poor Righteous Teachers, Sage Francis, Smoothe da Hustler & Trigga da Gambler, Special Ed, Stetsasonic
About Adam Bradley
Adam Bradley is Associate Professor of English at the University of Colorado and the author of Book of Rhymes: The Poetics of Hip-Hop and Ralph Ellison in Progress. He is also co-editor of Ralph Ellison's unfinished second novel, Three Days Before the Shooting… www.adamfbradley.com
About Andrew DuBois
Andrew DuBois is Associate Professor of English at the University of Toronto at Scarborough and the author of Ashbery's Forms of Attention. He is also co-editor of Close Reading: The Reader.
Props!
"The Anthology of Rap is an instant classic. It brings together the lyric poetry of some of the greatest artists of our time. Hip Hop is here to stay and rap lives forever on the stage and now on the page!" – Cornel West
"These Rappers' lyrics love. Cut. Curse. Fight. Teach. Play. Pray. Testify. They bring us the pace of sound. The swiftness of sound. The discordant way of looking at the world of sound. The Blackness of sound. The new biopic beat of sound. These are word sorcerers who love language and hablar sin bastón (speak without a crutch)." –
Sonia Sanchez
"Every great literature deserves a great anthology. Rap finally has its own."
– from the Afterword by
Chuck D
"What you hold in your hands is more than a book. This is a culture. This is hip-hop…This book offers a view of rap in full, from the root to the fruit." – from the Afterword by
Common
"From the Sing Song cadence of the slave preachers to the emotional bravery of Tupac Shakur to the clarity of Queen Latifah…for all the hearts and heads and voices who still have to be heard: We Now Have an Encylopedia. Good for us. Much needed. Much needed."
"This monumental encyclopedia of rhymes is great for hip-hop newbies or longtime fans, lyric lovers and poetry devotees. It's an invaluable reference on hip-hop history spanning from Afrika Bambaataa to Kanye West." –
Touré
"As ambitious and intelligent as anyone might want, and more enjoyable than anyone might think…If you want to hear how the latter part of the twentieth century sounded, you can't do better than this book." –
Kevin Young, Bookforum
"[The book] red-blooded American teens will be begging for come fall." –
Library Journal
"Some readers of poetry still wonder where the rhymes went. One answer is they left the ends of the lines and went inside the poem. But rhyme also strongly re-emerges in rap. Whatever the stakes or the messages contained in this monumental volume, the like-sounds that used to be the engine of English poetry drive and power these energetic lyrics." – Billy Collins