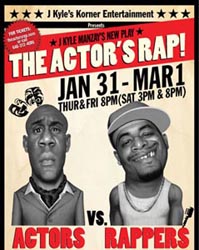 There's a new play in town and it's called The Actor's Rap. Now I'm not really a "go to the theatre" guy. As a matter of fact I have passed up going to see The Color Purple on Broadway twice for fear of being bored for two hours, sort of like sitting through a church sermon, although I hear it's absolutely fantastic and far from dull. I've seen a few other theater performances though that held my attention and I thoroughly enjoyed such as Cats, Stomp and Riverdance (don't judge me). With theater's lack of CGI and technological visual effects that dazzle those of us with short attention spans and perhaps a less developed frontal lobe, the show itself has to be very entertaining so that I don't miss being mesmerized by the shiny objects that some movies rely on in lieu of originality (80's tv show remake movie coming soon to a screen near you). I say this to say that with The Actor's Rap, I genuinely enjoyed this play.

The Actor's Rap is the brainchild of Obie Award-winner J. Kyle Manzay who not only wrote the play but also produced, directed and starred in it as well as dug deep into his own pockets to get it off the ground. After being in attendence at the Engelmann Recital Hall where the play is currently taking place, I'd say it was a good investment on his part. Kudos to for wearing so many hats well.
The other stars of the play include the beautiful Vanessa Simmons (MTV's Run's House), Shaun Cruz (It's Showtime at the Apollo winner), Michael Shawn (Hot 97) , Deja Vu (Power 105.1 FM) and Ann Tripp (The Steve Harvey Morning Show).
The Actor's Rap is promoted as a comedy play "where pop culture meets satire." I will say that you undoubtedly will laugh your way through the hour and a half or so of the runtime, especially if you catch the some of the references. By the way, I knew the Cuba Gooding reference so gas face to those who had to wait for the explanation before laughing. I'm that good. Adding to the story and the comedic stage performance was the incorporation of "televised news flashes" that fit into the story. Yes I got the Sam Jackson references and some of the shots fired in his direction first too; hate yourself now.
With the exception of a few scenes that could have been kept a bit more short and sweet The Actor's Rap is a good stage presentation and solid entertainment that will leave you saying what I heard over and over as I was leaving, "I didn't expect that I would laugh as much as I did." For a comedy, that sounds like a good thing to me.
What is The Actor's Rap about? Check out the trailer and read the press description.
About The Actor's Rap!:
The hip-hop infused comedy, where pop culture meets satire, examines the downward spiral of an African-American actor who begins to lose roles – and a girlfriend – to a famous rapper-turned-actor. Fed up, the play's protagonist takes matters into his own hands hatching a plan to kidnap his rival (the rapper) by calling upon his classically trained actor buddies to help him pull off the caper. What ensues next is a hilarious sequence of events sure to leave audiences in stitches.
Trailer:
Quicktime | Real Player | Windows