Tanya Morgan Stop In NYC On Way To Brooklynati; Performance With Wale And Colin Munroe
Brooklynati Out On May 12th! Are You Moving?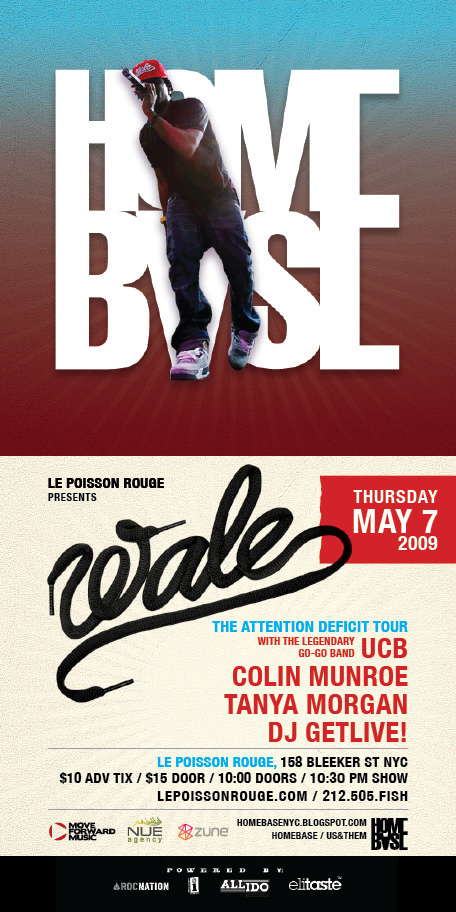 Critical Praise for Tanya Morgan:
"Brooklynati" is Tanya Morgan's latest project, and it basically cannot disappoint. In fact, it's genetically engineered to be better than you. For good measure: Von makes brownies better than your mom, Ilyas reads more books than Reading Rainbow, and Don is meaner than the guy that stole your lunch money yesterday. And they all still rap better than your cousin's best friend's ex-boyfriend's brother. Yep better than all that."- MSNBC
"Tanya Morgan make… messages that resonate with the everyday listener and accessible beats that captivate the spirit of Hip-Hop's most devout followers, not to mention their reputation for dominating live stage shows." – 215Mag
"With all due respect to Talib and Hi-Tek, I'm actually more inclined to revisit team Tanya's likeably loose, bordering-on-sloppy inaugural effort than said ballyhooed backpack-crowd classic." – XXL – Chariman's Choice
In preparation for their forthcoming album, Brooklynati, dropping May 12th, Tanya Morgan will make several exciting appearances in New York including a performance alongside DC-Rap heavyweight, Wale, and "Unsung Hero" singer Colin Monroe on Thursday, May 7th at Le Poisson Rouge, an in-store at the Fat Beats store, and an appearance on the historic WNYU Halftime show.
Tanya Morgan has been grinding of late and after a 12-city tour of Canada, they are ready to introduce NYC to Brooklynati. Highlighting the creativity, throwback sound, and personalities of the emcee trio, Brooklynati is an album, a place, and a state of mind. With Tanya Morgan providing the soundtrack, the trio invites fans to become part of the virtual city of Brooklynati (www.Brooklynati.com) and one of the most involved and intricate marketing campaigns ever created for a hip-hop release. Building off the success of their critically acclaimed debut album Moonlighting and last summer's The Bridge EP, which received nods from ?uestlove, The Source and XXL, Tanya Morgan are stepping out of hip-hop's shadow and moving to Brooklynati.
Are you coming?
Tanya Morgan are available for in-person and phone interviews. Web editors contact Nora for interview requests. Print editors contact Michelle.
Wednesday May 6th
WNYU Halftime Radio Show
10 PM- TUNE IN!
Thursday May 7th
Tanya Morgan Live with Wale + Colin Monroe
Le Poisson Rouge 158 Bleecker Street NYC
10PM – $10 ADV/$15 DOS
Tuesday May 12th
Fat Beats In-Store
Details coming…
Tuesday May 12th
Tanya Morgan 'Brooklynati' Album Release Party
Details coming…
For more information on Brooklynati local events and citywide attractions, please visit www.Brooklynati.com.
Listen to the first single, "So Damn Down" –
Get your virtual tour of Brooklynati here: http://www.youtube.com/watch?v=413Io1IQ2OA
The Background:

Tanya Morgan is back with their third project, Brooklynati, following the success of Moonlighting and The Bridge. Since Von Pea, Ilyas, and Don Will formed Tanya Morgan in 2003, they have received high praise from media elites such as Spin, The Source, XXL Magazine and a resounding seal of approval from the blogosphere. Considered by many to be our generation's torchbearers for De La Soul and A Tribe Called Quest, Tanya Morgan will once again put their skills on display with the unique hip-hop Americana sounds of their Brooklynati album this spring. Based on the fictitious city of Brooklynati, this release pushes the boundaries of a concept album by incorporating not only lyrical imagery but also cultivating a culture and mindset, which can be experienced through the City of Brooklynati Chamber of Commerce website: . The sites, sounds, memories, and events of Brooklynati will be unleashed on May 12th through Bay-Area based record label Interdependent Media, the architects behind the funding and development of Brooklynati. Wanderlusts can feed their souls at
About Interdependent Media:

Founded in 2006 in the Bay Area by Evan Phillips, Interdependent Media has built unique strengths in the development, production, and marketing of recorded music via new methods of marketing and promotion. Armed with a comprehensive understanding of both traditional and emerging methods of marketing, iM has successfully created multi-faceted methods of raising awareness and interest in their projects. Industry veterans Ian "ID" Davis and Dominic Del Bene head operations at iM and are credited with discovering and/or developing artists such as 9th Wonder, Little Brother, Tanya Morgan, Blackalicious, Del the Funky Homosapien, the Hieroglyphics and more. In 2009, iM will be releasing multi-media projects from artists Finale, Canibus, K'naan, Truthlive, and Tanya Morgan. For more information, please visit
Map of Brooklynati: