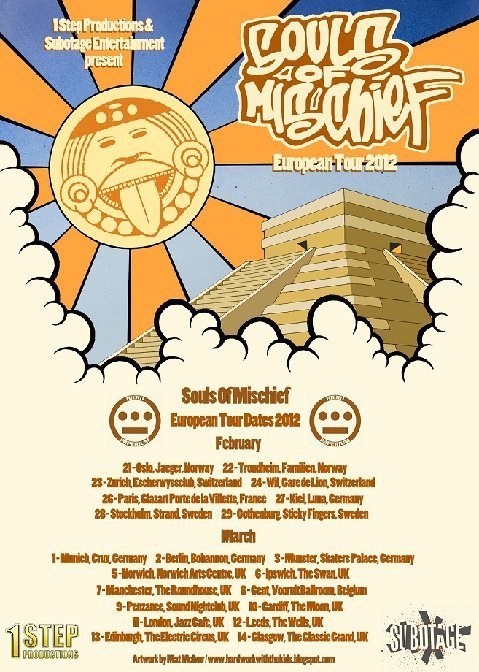 Oakland's hip hop legends Souls of Mischief return to the UK and Europe for the first time in 2 years since their "Montezuma's Revenge" tour.
It's almost 20 years since the release of the classic '93 Til Infinity', but the group members, as part of the Hieroglyphics Crew, have remained one of the most prolific artists on the scene with numerous solo and group releases on Hiero Imperium Records. They still tour regularly all over the United States and Canada, and are due to perform at SXSW on their return from Europe
2012 starts with three solo albums being released in quick succession.
The European tour takes in Norway, Sweden, Switzerland, France, Germany and Belgium, while UK fans can expect to hear a mix of new material and the old classics on the following dates
March 5th Norwich Arts Centre
March 6th Ipswich The Swan
March 7th Manchester Roadhouse
March 9th Penzance Sound
March 10th Cardiff The Moon
March 11th London Jazz Cafe
March 12th Leeds The Wells
March 13th Edinburgh The Electric Circus
March 14th Glasgow Classic Grand