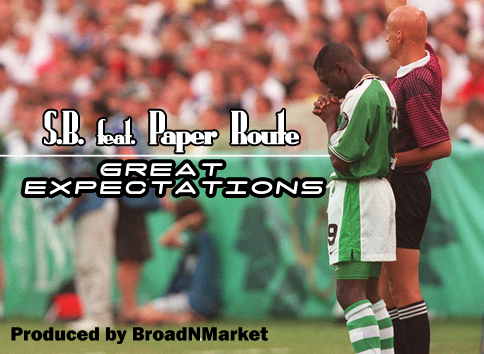 SoulBrotha aka SB "Great Expectations" ft. Paper Route Produced by BroadNMarket
PR:
"Great Expectations" from SoulBrotha aka SB, along with the official video for "Heartbreache 1". Currently residing inHouston, Texas, SB is originally from Nigeria, and stands proud and strong in his heritage, personal ethics and artistic values. You can learn more about his passion for music in the video below!
Additionally, on November 25, 2011 SB will release his EP entitled Southpaw, which features production by BroadNMarket of The Accomplices and New Jersey's Joe Andriulli. The first official single from the project, "Way of Love (Never Out of Season)" will be released in early November.
The sound of Southpaw is a fusion of Hip Hop, Indie Rock, R&B and Pop, inspired by British Indie Rock band The XX. As SB explains, his writing experience for Southpaw was drawn through raw emotion:

"I was going through some very trying times personally, emotionally and financially. It was a very dark time in my life, and the instrumentals, most of which were drawn from The XX's first album, provided the soundbed to vent, ponder and believe that this was only a passing phase and there was light at the end of the tunnel. I wanted to share my trials and struggles so that people in similar situations of hopelessness or despair could be encouraged, motivated and inspired to keep pushing no matter how hard it may seem."