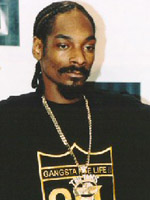 JAKKS Pacific, Limbo 41414 and Media Cartel Announce Mobile Phone Auction With Snoop Dogg
Mobile entertainment providers Limbo 41414(TM) and Media Cartel, Inc., have teamed up with Jakks Pacific, Inc. (NASDAQ: JAKK) and Grammy winning rapper Snoop Dogg for a "Dog Meet Dogg Sweepstakes" to promote JAKKS' new JPI Pets Snoop Dogg line and benefit the Snoop Youth Football League. Now through January 16, 2007, Limbo 41414 technology will host cell-phone driven text-messaging-based Limbo Auctions featuring multiple Snoop Dogg prize packages, including signed CDs, Snoop Dogg pet products from JPI, and a chance to hang with the Doggfather himself at the third annual Snooper Bowl event taking place on Super Bowl weekend in Miami, Florida.
Over the course of the Limbo Auction, Limbo 41414 users will bid on a chance to win daily and weekly Snoop-themed prizes. The prizes include new Snoop Dogg pet products such as faux fur coats, hoodie sweatshirts and other JPI Snoop Dogg pet toys, as well as exclusive Snoop Dogg ring tones for cell phones and his just released album Tha Blue Carpet Treatment and will be awarded to the lowest unique bidder through Limbo 41414's premiere "upside down" Limbo Auction. A percentage of the proceeds from the Snoop-themed Limbo Auction will go to the Snoop Youth Football League, which has been bringing football leagues to underprivileged youth since 2004.
The new line of Snoop Dogg branded pet products featuring dog toys, apparel and accessories inspired by the iconic Doggfather himself, including items featuring a sound chip that plays signature Snoop Dogg phrases, is also available for pre-order on www.Amazon.com.
The "Limbo Auction" is an innovative, cell phone-driven text messaging game that integrates the components of both a sweepstakes and an auction. A Limbo Auction is distinct from other sweepstakes in that it's truly an interactive game where the winner makes the lowest bid that no other player makes, not the highest bid. It encourages players to develop and employ bidding strategies and to stay highly engaged during each round as they receive comments and tips regarding their bids (e.g., "you're the lowest unique bid," "your bid is unique but not the lowest," etc.)
Cell phone users in the United States and Canada can bid on the grand prize trip to the Snooper Bowl at any time by sending a text message with the keyword SNOOP to 41414 for a fee of $1.99, from which $.85 will be donated to the Snoop Youth Football League.