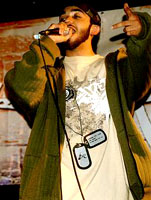 If you ever get to stop Exit 9 New Brunswick, NJ, there is a small scene swarming with high class restaurants, low class waiters, broke college students and diverse hip hop talent that is beginning to make some big noise. As of recent, one of its home grown talents, Silent Knight, jumped on the global scene inking a deal with world famous Rawkus Records, and has been so busy with his newly garnered opportunity, it took me nearly three months to get him to answer these questions! Ironically is album "Hunger Strike" finally gave him reason to sit down at Thinisu on Easton Avenue and re-up on some necessary nutrients…

In seven words describe who you are, and do not mention the word "Emcee"
Silent Knight: Silent Knight. Now listen to my music!

Do you feel there is a difference between fan respect and rapper respect?
Silent Knight: ummmm. Not even sure what this means exactly. But I guess, for the most part…..other rappers have similar experiences and/or outlooks. So rappers may respect things that non-rapping fans might not even think about. And at the same time, fans can accept or respect you without all the pride and meticulous bs getting in the way.

Right now you are pushing this album out of your trunk and a few web sites. Obviously this is a working man's job. Do you feel that had any influence to name your album "Hunger Strike"?
Silent Knight: Yeah, it was definitely a big part of naming it. You gotta work extremely hard to make it in this business. Its pretty much common knowledge at this point, that talent is only a small part of it.
My hunger strike is basically an attack…..out of hunger. It has a lot of meaning. If you listen to the album, it's explained.
What in the world would possess you to stop eating?
Silent Knight: If the food supply keeps diminishing, and the government implemented Marshall law….and starved us for population control. Actually I'd probably find bugs and animals and stuff to eat.
So to answer your question…..maybe an evil spirit would possess me to stop eating, I don't know.
Do you think this album will get critical acclaim it deserves?
Silent Knight: The response I've been getting so far is amazing. I think this album will stand the test of time, and fans of good music all over the world will really appreciate it. "Jeff a rap critic" though (-Meth)

What kind of rapper would you consider yourself in the lines of? Concisous? Gangsta? Weirdo Experimental space rapper?
Silent Knight: An Emcee. Ever evolving and well rounded. Holla burton.
How did the collaboration with Sean Price from Boot Camp work out, being so different in style of rhyme?
Silent Knight: I don't think our "styles of rhyme" are that different at all. It's raw east coast shit for the most part. We obviously have somewhat of a difference in content….but like I said….ever evolving, well rounded! It's dope as hell to have him on my album though, word up.

Lets go with some more stereo typical interview questions. Why are you grinding better than everyone else?
Silent Knight: haha, I don't know if I'm grinding better than everyone else. But I'm dedicated and focused….and doin the damn thing. You see…"Im gonna be on tiddop, thats how my eyes can see…..I put in work, and watch my status escalate." -(Guru of Gangstarr)
There are a lot of cats that I work with or that I know, who are putting in a whole lot of work too.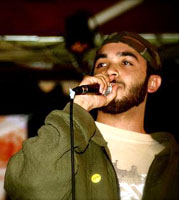 Stage show is the most important aspect of a underground musician. What are some ways you connect to the crowd for the big bucks on merchandise sales?
Silent Knight: I've learned to just be my self, and have a good time. If that means telling some corny jokes, or making an ass out of myself….then cool. But for real……I give a lot when I'm doing a show. I try to put myself out there and have the crowd really relate and have a good time. It's all about balance. Plus I got some other secrets that I can't divulge at this time. So come see a show!
Being Latino, do you think you can score big with your own people on this album? Do you feel its ok to ask them to support you based on the fact of your heritage?
Silent Knight: I get a great amount of support from my Latino people. Whether it's Latino artists, rappers, organizations, or just people in the community. But…i don't ask them to support me based on my heritage. I earn their respect and support by being me, making good music, and setting a good example for my people. Honestly….I dont even put it out there too much, that I'm Puerto Rican. On my next album I'm gonna touch on that subject a lot more though I think.
Should people be impressed by the long list of producers you have on this album? Ayatollah , Beatminerz, and Ill mind for example? For the people who don't know, can you tell us what they have done?
Silent Knight: Yeah, I mean I'm personally amped I have so many talented people on my album,. For those that don't know….some of the more known producers I worked with: Ayatollah is the man behind Mos Def-Ms. Fat Booty,(and remix with Ghostface), Talib Kweli and Mos'- Know That, Styles P. and Pharoahe Monch-My Life, and tons more. He was a big part of the Rawkus movement aswell.
Da Beatminerz are Dj Evil Dee, and Mr. Walt. if you don't know who they are…Listen to all the classic Boot Camp Click/Duck Down albums. (Black Moon, Heltah Skeltah, Smif n Wessun, and OGC. nuff said.
Illmind is one of my favorite producers….and I'm glad I have the opportunity to work with him. He's from New Jersey and holds shit down! He's worked with everybody from Pharaohe Monch to 50 Cent. Look out for him in the coming year.
Which do you think is your best song on this album? Although you got some heavyweight producers on it, I feel like Jesses Fishcer and Kon came through on some tracks.
Silent Knight: Yeah, Analogic and KON are some of my favorite producers to work with also. And I love the Jesse Fischer track. I don't know about the best song, but if I had to pick a personal favorite…..I'd say Hunger Strike(the intro) or Shine(produced by Rashid Hadee).

I am sure you have played your album front to back at least 1000 times. I'm sure people play it when you are in the car with them. Does that make you feel weird when people are singing along to your songs?
Silent Knight: I think it's always gonna be a little weird to witness that. But I've definitely gotten somewhat desensitized to it. Especially if I've heard the songs 1000 times.

So what do you listen to at this point now.
Silent Knight: Hmm. I listen to a lot of different things. I'm not one of those people who says "Oh I don't even listen to rap" though. Here's a short list of some of the stuff I been listening to lately. Cymarshall Law-Hip Hop In The Flesh, Emilio Rojas-Breath Of Fresh Air, Amy Winehouse-Back to Black, Stephen Marley-Mind Control, Marco Polo-Port Authority, James Brown-Greatest Hits, and of course…..beats! There's a lot more…but that's enough, right?

I see you are with Elementality Productions. Being financially backed on your album, are there other projects following up that can possibly get the label distribution?
Silent Knight: Yes indeed. I'm working on a solo LP, and possibly an EP. Plus I'm a part of the Rawkus 50, and I'll have some exclusive digital treats. Also….I'm appearing on an album/compilation coming out this year on Shaman Work Recordings……titled "DJ KO presents…Picture This" which features a star studded cast including Talib Kweli, Royce 5'9, OC, 9th Wonder, Black Milk and many MANY more!

What would you do with $10,000 dollars?
Silent Knight: I'd pay off my familys debts. I gotta hand it to you….these aren't your typical interview questions.
From my knowledge, Japanese women have a tendency to love American rappers. Would you rather be huge in Japan or a blue collar musician in the US?
Silent Knight: haha…..why not both?
Speaking of women…and Hunger Strike…if you can't eat properly and are dating a woman during you first LP release, may that affect your record sales?
Silent Knight: uhhh…."I'm living good" -50
Is this interview making you hungry for Sushi?
Silent Knight: No, but that may be because I just ate some sushi yesterday.

Provided you become a huge rapper in Japan, will you leave the east and go Kamikaze on us?
Silent Knight: I love my home…..well It's more of a love/hate relationship. I can't promise anything.

Do you think your album can sell out there?
Silent Knight: "Does a bear shit in the woods and wipe his ass with a furry little rabbit"? That's supposed to mean YES, but I dont know if a bear would really do all that.
Your myspace page has mad love. Why don't people do something and set up a show instead of saying, "Silent Knight I love you, come to Arkansas?"
Silent Knight: Ha. Some of them do. Some peole just love the music, but they don't know what else to do. not everyone can be a show promoter(or an artist for that mater). I don't think its bad for people to leave comments like that.

What has been the weirdest show you have ever done?
Silent Knight: Any show with Kosha Dillz. haha nah. I don't even know….there's def been some odd ones. Just recently I almost did this 24-hour "Rapathon" at the new Hip Hop Cultural Center in Harlem, but I couldn't make it.

How did we get on the subject of Japan?
Silent Knight: I brought it up.
So where can we buy your album now? Better yet why should we buy it?
Silent Knight: You can pick up "Hunger Strike" at Fat Beats NYC, at
Undergroundhiphop.com
, or directly from me at:
www.myspace.com/silentknightma
. As for WHY you should buy it…..I explained that in the interview. To listen to some of it before you buy, once again I direct you to: www.myspace.com/silentknighma. Also…..more shamless plugs and shoutouts:
come visit me and join my network at: my.rawkus.com/profile/silentknight. And look out for the Rawkus 50!
Shout out to my Elementality people…..KO,Analogic, and welcome to the team…..KAZE and East!
Look out for some new ish from me and KON too!
Respect Due
-Silent Knight
Kosha Dillz, aka Rami Even-Esh can be contacted at kronobiggy@aol.com or www.myspace.com/koshadillzinyomouf He also loves to travel and eat matzah ball soup in his spare time.