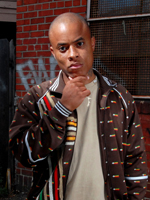 For those that don't know you, give me a rundown of who Shaya is and represents?
Shaya: Shaya is a writer, thinker, emcee, hiphop fanatic that represents the greater bay area with an uncanny arsenal of lyrics. Doing this music thing to build with my peers and people I grew up listening to.
You are Bay area born and bred, yet your flow doesn't have that stereotypical sound to me. I hear more of a mix with a similarity to Little Brother, Oddisee, Mark Starr type. Why do you think that might be?
Shaya: Not take anything away from the Bay Area but no one besides Hiero and Living Legends spit the way I do. Being that everyone is on the hyphy movement. There's alot of us that are approaching this rap game with substance, lyrical ability, and thought provoking shit which isn't always the norm coming from here. The comparisons to Little Brother, Oddisee, and Mark Starr don't bother me. I'm a fan of their work. So to be in that category is helping my movement as well.


How'd you hook up with iD?
Shaya: I met iD through a mutual friend (DJ Mark7) who shared a local radio show (Step'n 2 Da a.m.) with him. They used to let local artists come and rip up the mic or break their records there. It goes even deeper than that I guess. But from being a regular on and off air it grew into a friendship. He used to give me beats, and pointers cause I always wanted to do solo work. I was in a crew at the time. And he made sure I was put on all these years. It's been about 10 years now. iD is my big brother though.
Interdependent Media has been making a real push to be a label with a talented diverse roster, how'd that deal come about?
Shaya: Yeah they trying to do it up there. I mean all that was iD's doing. I knew Truthlive (Ceo/Founder) for a long time. He's like my brother as well. We been working together for awhile. He asked iD if I would be interested in doing an album and it was on after that. But we all family so it came natural.
How are they treating you there?
Shaya: With every label you have those moments where you dont see eye to eye as with any relationship. But they gave me an opportunity to be heard and put out music. Quality music at that. So everything is everything with us. I think coming out its the best place for me. Hopefully they see it the same way and we can blossom together.
What's the idea behind Fallen Awake?
Shaya: Fallen Awake was something I felt embodied my emergence in this rap game. I was once told by iD that while you're slouching and not mastering your craft. There's someone doing the same thing you're doing thats awake on the other side of the world getting better than you. So that was the spark that lit the fire and I ran with it. Since then I been at this relentlessly. So while others are falling asleep I've fallen awake!
Ok, ego time, best cut on the album?
Shaya: Too many to name man. That's like picking your favorite child. Lemme say this "Thinking Cap", "Proud", "Is It Life (Obvious)", and "Speed of Life" are all tied for that spot.
So July 29th is the date, why should people cop Fallen Awake?
Shaya: Actually it's being released the 22nd which is a blessing. But to answer your question I believe people should cop Fallen Awake cause it has something everyone can enjoy and take away from. I made it so people could relate and still enjoy a hiphop album with more than just 2 or 3 good songs. I'm sure its something that's timeless. And when you cop it you'll agree.
Do you have any tours or videos planned in support of the album?
Shaya: Right now I have no tours to date. Although some interests have been brought to my attention. I am open to doing shows whenever I get the chance. So all you promoters out there GET AT ME! I do have a video for "Industry Life" that is in circulation. It was directed by Roy Miles who is the shit! Beyond that I have two videos I'm gonna be shooting simultaneously this month for "Thinking Cap" and "Take A Ride". So be on the lookout for those.
Thanks for the time, any final words?
Shaya: Yeah I got some final words. Shout out to my kids, iM, Michelle @ Audibletreats for all her hard work, and those who already are tapped into my movement. GO COP THE ALBUM!!!