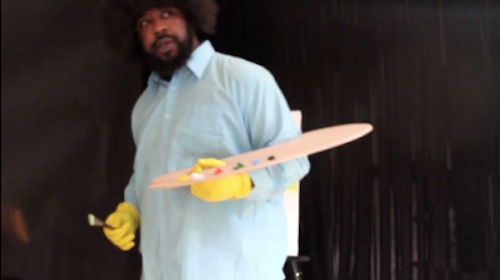 First Sean Price was Seanwaur and now he's Sean Ross. Who doesn't remember Bob Ross from The Joy of Painting turning all those scratches into amazing landscape paintings. The only thing Sean P was missing in his fresh painting of the view from his project window was a "happy little bush, right here". In other news, Sean Price can paint?
About the video
For Halloween, rapper Sean Price pays tribute to the late, great painter Bob Ross, who would have celebrated his 70th birthday last Monday. "Sean Ross" brings his world of Brownsville, Brooklyn, to life on canvas, depicting a view of the neighborhood from his apartment window.
Sean Price 'Mic Tyson' album out now at all major retailers, including a deluxe-edition at iTunes.
Win the painting Sean P made in the video.