The DMC DJ Battles are the longest running most prestigious DJ Battles in the world. From DMC battles, legends are made. Being a DMC World or National Champion continues to be one of the most sought after titles for turntablists worldwide!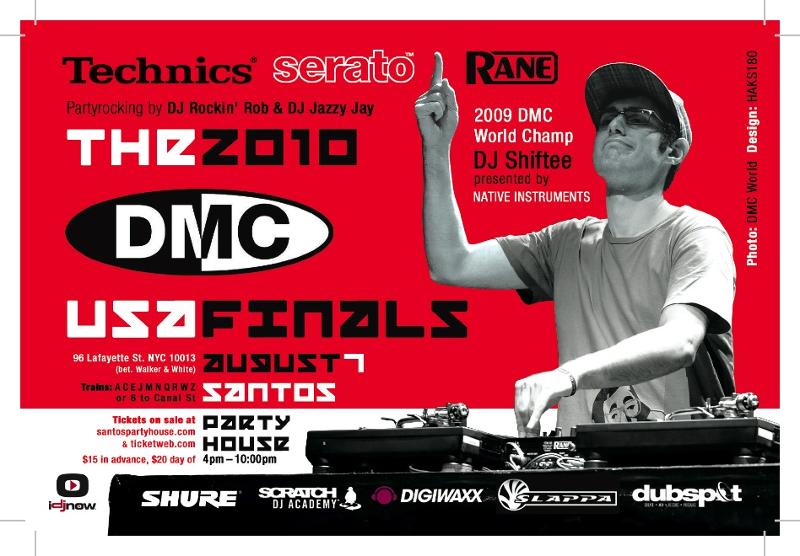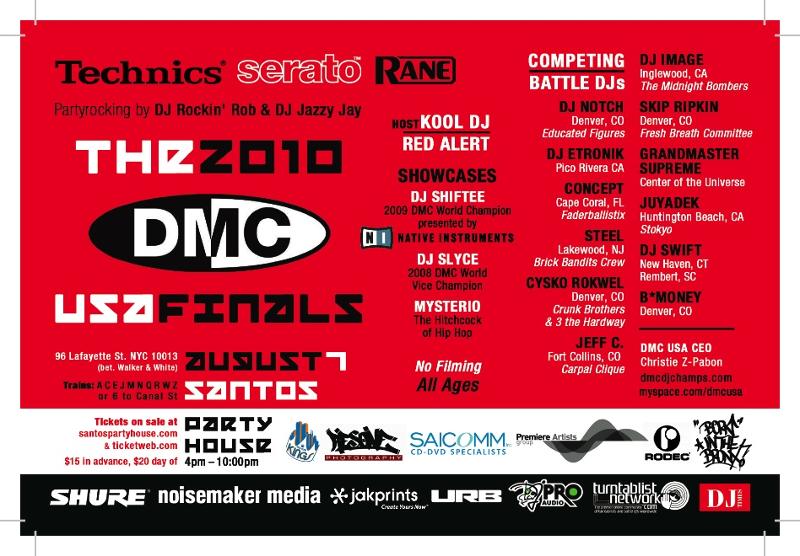 Flyer by HAKS180 Photo of DJ Shiftee courtesy of DMC World
August 7: DMC US Finals – National DJ Battle
Performers include:
DJ Shiftee: Reigning DMC World Champion:presented by Native Instruments
DJ Slyce: 2008 DMC World Vice Champ
Mysterio: The Hitchcock of Hip Hop
DJ Rockin' Rob (opening) Bronx DJ Legend – Mean Machine Crew
DJ Jazzy Jay (closing) – Bronx DJ Legend – Soul Sonic Force, The Jazzy 5, Strong City Records
Host: Kool DJ Red Alert
Judges include: Billy Jam (Hip Hop Slam), Mista-B (09 DMC USA Vice Champ) and
DMC USA Champsion DJ Precision (2007), DJ Slyce (1997 + 2008) and DJ Perseus (2001)
Filming/Video Cameras are NOT permitted. Noisemaker Media has that covered!
Still Photography is Fine.
DJs Competing for the 2010 DMC US Finals include
CONCEPT: Cape Coral FL – Faderballistix – 2010 DMC New Orleans Champ
Dj NOTCH: Denver CO – Educated Figures – 2010 DMC Denver Champ
CYSKO ROKWEL: Denver CO – Crunk Bros. & 3 the Hardway – 2010 DMC East Coast Champ
DJ ETRONIK: Pico Rivera CA – 2010 DMC West Coast Champ & 2006 DMC US Supremacy Champ
STEEL: Lakewood NJ – Brick Bandits Crew – 2010 DMC San Antonio Champ
DJ SWIFT: New Haven CT/Rembert SC – 2010 DMC New Orleans Runner Up
SKIP RIPKIN: Denver CO – Fresh Breath Committee – 2010 DMC Denver Runner Up
GRANDMASTER SUPREME: Center of the Universe – 2009 DMC US Supremacy Champ
DJ IMAGE: Inglewood CA – The Midnight Bombers – 2010 DMC West Coast Runner Up
JEFF C: Fort Collins CO – Carpal Clique – 2010 DMC San Antonio Runner Up
JUYADEK: Huntington Beach CA – Stokyo – Special invited 2010 DMC West Coast 3rd Place
B*MONEY: Denver CO – Special invited 2010 DMC Denver CO 3rd Place
4pm-10pm. All ages. 21+ with ID to indulge.
$15 in advance at ticketweb.com $20 day of.
Santos Party House
96 Lafayette St. (between Walker & White)
New York NYC 10013
santospartyhouse.com
Trains: A C E J M N Q R W Z or 6 to Canal St.
Promoter: Christie Z-Pabon: myspace.com/dmcusa
Contact: usa@dmcworld.com
Event page: http://www.facebook.com/event.php?eid=106720432694013
:::::::: Friday, August 6: Pre US DMC Finals Special on WFMU Radio :::::::::
3-6pm EST WFMU 91.1 Put the Needle on the Record!
Special guests: 2009 DMC World Champ: DJ Shiftee, 2009 DMC US Vice Champ: DJ Mista B, 2010 DMC US Supremacy Champ: DJ Solo, Maryland turntablist and WFMU regular DJ ALF, & DMC USA organizer Christie Z-Pabon (Tools of War) Listen in online at http://www.wfmu.org/playlists/BJ
1st Prize for The 2010 DMC US Champion
Rane TTM 57SL Mixer
Native Instruments Maschine + a Kontrol X1
Rodec Scratchbox
Shure Classic Shure Record Bag + 2 GOLD Shure M44-7 Cartridges, carrying case
+ Shure SRH750DJ Professional DJ Headphones
SLAPPA's Laptop-Maximus Set which includes: M.A.S.K. Custom-Build Laptop Backpack
Stealth Laptop Sleeve + 240 d2i HardBody PRO CD case + HardBody PRO SKULLZ Headphone case
One year subscription to DJ Times + 2 full passes to the International DJ Expo
1 year of representation by Premiere Artists Group as your booking agent
Prize Pack courtesy of DJ Qbert & Thud Rumble
Round trip flight & hotel accommodations to London for the 2010 DMC World DJ Championships!
Prized for the 2010 DMC US Vice Champion
Rodec Restyler
2 GOLD Shure M44-7 Cartridges + Shure SRH750DJ Professional DJ Headphones
SLAPPA's Laptop-Minimus Set: Includes
Bally Hide 15.4″ Laptop Shoulder Bag + Green Manalishi Laptop Sleeve + 80 d2i HardBody PRO CD case + HardBody PRO Camo Headphone case
Prize Pack courtesy of DJ Qbert & Thud Rumble

Prizes for 3rd Place
Rodec Patch Live
2 GOLD Shure M44-7 Cartridges + Shure SRH750DJProfessional DJ Headphones
SLAPPA's Daily Mix Set: Velocity MATRIX 15.4″ Laptop Backpack + HardBody Headphone case