"It's uniformity, my crew is swarmin' like some killer bees / And makin' music cordially, we tryin' to build a scene."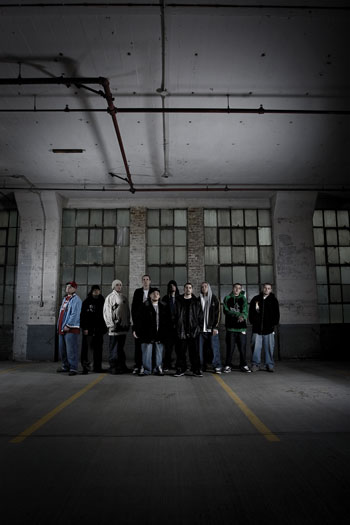 DOWNLOAD: Sandpeople – "Strands"
This new track from Sandpeople's EP Long Story, Short… has all the makings of a legendary crew banger, with a new-age sound. Seven of the ten members of the group get in on this one, getting only 8 bars a piece to show what they got, and each emcee definitely makes the most of his time. The beat, produced by group member Sapient, is an electronic jam which sounds as though he copped it from a record store somewhere in the future. The vocals are made up of seven verses; no time for a redundant chorus. The emcees are, in order of appearance, Ethic, Sapient, OnlyOne, ILLmaculate, Mo-B, iame and Gold, each having his own style and his own personal message, loosely based around how dope their skills are on the mic. As the opening track on the EP, "Strands" sets the bar high for the rest of the album.
Here's what the crew had to say about the track: "'Strands' was set to be the EP's introductory song from the start" says Ethic of Sandpeople. "The beat Sapient laid down is such a banger and has so many ill sequences that we knew right away we had to attack it with rapid fire back-to-back verses. It's also our signature shit to start projects flexing our numbers. The standout verses are definitely when Gold and iame go back-and-forth for 16 bars to end the song.
Of all the songs on our new EP Long Story, Short…, "Strands" was probably the easiest and most comfortable one to make. Having our numbers on full display – with 7 emcees on this song – is how we like to start projects, and it is a format that produces quick results. Anyone that is familiar with our catalog will recognize Strands as a common thread that links our past releases to one another (dating back to Points of View).
There's no particular message for the song. This is a dope track to make your head nod. Don't think. Just listen."
The Background:
Since the 2005 release of Sandpeople's debut album, Points of View, the group has seen a growth not only in their own numbers, but also in their rate of musical output. The Sandpeople collective comprises 10 members and several sub-groups, each recording and releasing their own respective works in conjunction with the group projects. The crew's original members include founding member, Mo-B, as well as ILLmaculate, Onlyone, Gold, iame, Al-One, Simple, and DJ Spark. Later, per request of Mo-B, producer Sapient and rapper Ethic joined the original eight. Points Of View, an album recorded over a two-week span, quickly grabbed the attention of music fans everywhere, creating a cult-like following and spreading virally along the west coast and underground hip-hop scenes. That buzz lead to a yearlong courtship by Epic Records, which, although not resulting in a deal with the label, proved very influential and educational for the crew. Outside of the collective, various Sandpeople members have received numerous solo accolades as well. ILLmaculate, a Portland native, was crowned champion of the 2004 Scribble Jam Rap Battle at the age of 17, and group producer, rapper, and multi-instrumentalist, Sapient, has garnered recognition from his work with artists such as Inspectah Deck, Sean Price, and Aesop Rock, just to name a few. Sandpeople's newest effort, the aptly titled EP Long Story, Short…, is the product of insight gained from their major label courtship and the deeply ingrained work ethic and self-imposed high standards of the crew. With a new full-length on the way, the EP serves to show the continued growth of the crew, both individually and collectively. Long Story, Short… is available everywhere via Sandpeople Music.