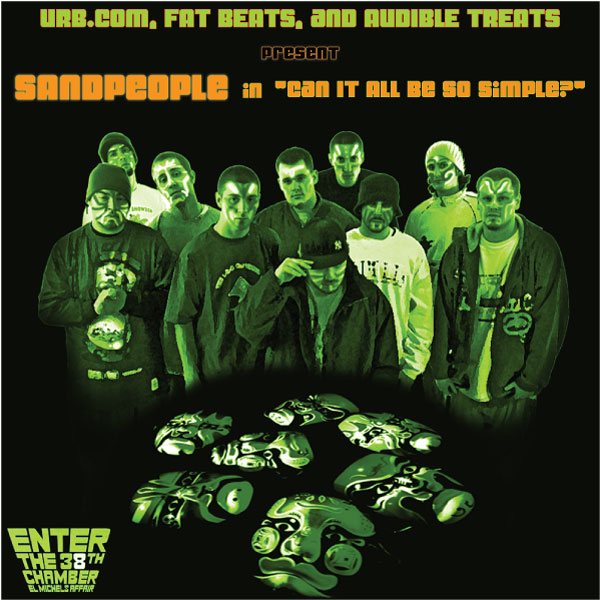 DOWNLOAD: Sandpeople & El Michels Affair Remix – Can It All Be So Simple
For El Michels Affair and Wu Tang Clan fans, the release of the Enter the 38th Chamber project is a dream come true. And the next single "Can It All Be So Simple", featuring the lyrical stylings of Portland natives, Sandpeople, is guaranteed to satisfy fans worldwide. Often described as "a beautiful fusion of talent and dependencies" this ten member gathering of hip-hop artists take the classic urban track and add their own flavor. Emcee Gold, one of the Sandpeople members, had this to say on the creation of the track "I pictured the record as being one part "an ode to" and one part "our take on the concept". I figured we should embellish on the lines that made the song so timeless and with sapient singing the hook it brought everything full circle." Mission accomplished.
Enter The 38th Chamber is a collaboration between URB.com, Fat Beats, and Audible Treats to present a remix series that finds a crew of elite emcees riding the rhythms of El Michels' down and dusty soul instrumentals. Appearances by Diamond District, Del The Funky Homosapien, A-Plus of Souls of Mischief, Kam Moye, Nightclubber Lang of Boom Bap Project, Sandpeople, Von Pea of Tanya Morgan, and many more will add layers of lyricism to El Michels' signature funk, making it a complete and compelling package for all listeners.
The Background:

Since the 2005 release of Sandpeople's debut album, Points of View, the group has seen a growth not only in their own numbers, but also in their rate of musical output. The Sandpeople collective comprises 10 members and several sub-groups, each recording and releasing their own respective works in conjunction with the group projects. The crew's original members include founding member, Mo-B, as well as ILLmaculate, Onlyone, Gold, iame, Al-One, Simple, and DJ Spark. Later, per request of Mo-B, producer Sapient and rapper Ethic joined the original eight. Points Of View, an album recorded over a two-week span, quickly grabbed the attention of music fans everywhere, creating a cult-like following and spreading virally along the west coast and underground hip-hop scenes. That buzz lead to a yearlong courtship by Epic Records, which, although not resulting in a deal with the label, proved very influential and educational for the crew. Outside of the collective, various Sandpeople members have received numerous solo accolades as well. ILLmaculate, a Portland native, was crowned champion of the 2004 Scribble Jam Rap Battle at the age of 17, and group producer, rapper, and multi-instrumentalist, Sapient, has garnered recognition from his work with artists such as Inspectah Deck, Sean Price, and Aesop Rock, just to name a few. Sandpeople's newest effort, the aptly titled EP Long Story, Short…, is the product of insight gained from their major label courtship and the deeply ingrained work ethic and self-imposed high standards of the crew. With a new full-length on the way, the EP serves to show the continued growth of the crew, both individually and collectively. Long Story, Short... is available everywhere via Sandpeople Music.
El Michels Affair, at the core of the retro-soul and funk movement, is led by saxophonist/organist Leon Michels and producer/engineer Jeff Silverman. The group began as a series of informal collaborative sessions with musicians from top-selling acts Sharon Jones & The Dap-Kings, The Budos Band, and Antibalas. In 2005, the group released their debut effort, Sounding Out The City on Truth & Soul, a label co-founded by Silverman and Michels. Since the album's '05 release, the El Michels sound has been prominent on successful collaborations with Amy Winehouse, Mark Ronson, Just Blaze, Adele, and Iggy Pop. Furthermore, in 2007, a horn part written and performed by Leon Michels was lifted and used for Jay-Z's "Roc Boys," the lead single from the American Gangster album. Most famously, however, is El Michels 2007 tour with Wu-Tang Clan member Raekwon, which led to the recording of two widely successful 7″ instrumental singles for "C.R.E.A.M." and "Bring Da Ruckus." Since then, El Michels Affair has diligently been in the studio, interpreting fifteen of some of the most legendary and well-know Wu-Tang Clan songs, including "Can It All Be So Simple," "Protect Ya Neck," "Cherchez La Ghost," and "Incarcerated Scarfaces" for their upcoming sophomore album, Enter the 37th Chamber, in stores now via Fat Beats Records.