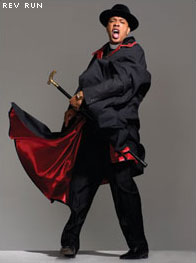 Tonight was the premiere of 'Run's House', the new MTV reality series featuring the family of Run DMC co-founder Reverend Run. Now the only thing I knew about the show, before watching, was that it was going to be a reality series following his family. Of course thoughts of 'Being Bobby Brown' entered the brain. Thankfully, this show is nothing like the coontastic Whitney and Bobby saga.

The first episode centered around the pending high school graduation
party being thrown for Angela. She is planning the celebration
with the help of her step-mother Justine and a party planner.
During one scene, Run is outside with them discussing the costs of the
party. He keeps his cool without flipping out at the request of
installing a see-through dance floor on the pool. Yeah, the cost
of doing that one thing was going to run between $5,000 and
$10,000. Daddy Run wasn't having it.
This incident shows that despite the fame and money that he has accrued
over the past 20 years, Run has not allowed it to go to his head and he
is not going to allow it to go to his children's heads either.
This is illustrated by JoJo (the oldest son) telling Angela, jokingly, that she "is
trying to be Paris Hilton and Nicole Richie up in this piece".
Later, Angela is shown discussing the situation with Justine hoping
daddy doesn't think "I am a spoiled brat".
The party goes well, ending with a total price tag of $5,000. In
addition, she is surprised with a Mercedes as a graduation gift.
All in all, for someone who is paid, Run was pretty subtle compared to
what other celebs would do. I think this is good parenting.
Now don't think the show is just all sappy, because it definitely had
its funny moments. Especially when Angela's boyfriend, who is 20
(she is 18 and just graduated highschool), comes over to the
house. The Rev gets his interrogation on and embarrasses the
young boy when asked, "What do you want to be successful in?".
The boyfriend answered, "shoes and stuff". Classic. Run
breaks it down to the boy how special his daughter is and how the kid
needs to get his life together. One may suspect he was doing this
for the cameras, but I highly doubt this. Of all the celebrity
reality shows, this one seemed the most "real".
I highly suggest watching this show, you will be entertained. I
am looking forward to the next episode which has Run trying to figure
out how to speak to his youngest son about sex. They showed a
clip of Run (who is a minister) talking to Diddy, who flatly tells him
"well, I'm a freak".
Yep, I am going to watch. 'Run's House' on MTV
Written by Kirshan Murphy (BlackInTheCity.net)