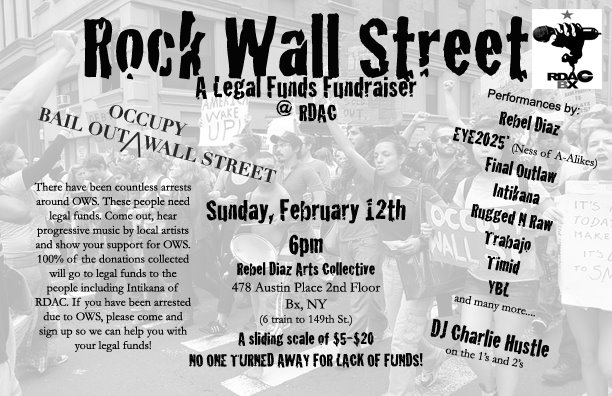 Rock Wall Street at The Rebel Diaz Arts Collective
A LEGAL FUNDS FUNDRAISER
There have been countless arrests around OWS. These people need legal funds. Come out, hear progressive music by local artists and show your support for OWS. 100% of the donations collected will go to legal funds to the people including Intikana of RDAC. If you have been arrested due to OWS, please come and sign up so we can help you with your legal funds!
OPEN TO ALL AGES!!!!!
Performances by:
Rebel Diaz
EYE2025* (Ness of A-Alikes)
Final Outlaw
Intikana
Rugged N Raw
Trabajo
Timid
YBL
and many more….
DJ Charlie Hustle on the 1's and 2's
—-
A sliding scale of $5-$20
NO ONE TURNED AWAY FOR LACK OF FUNDS!