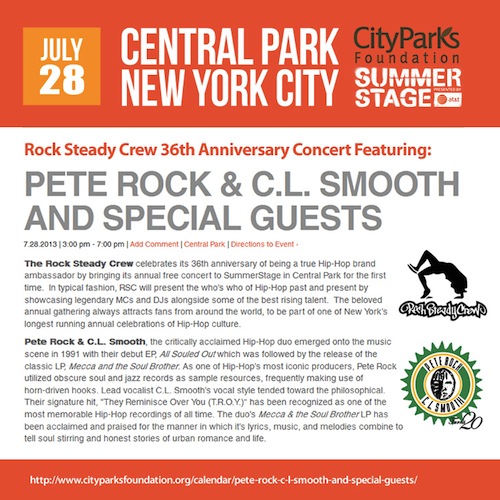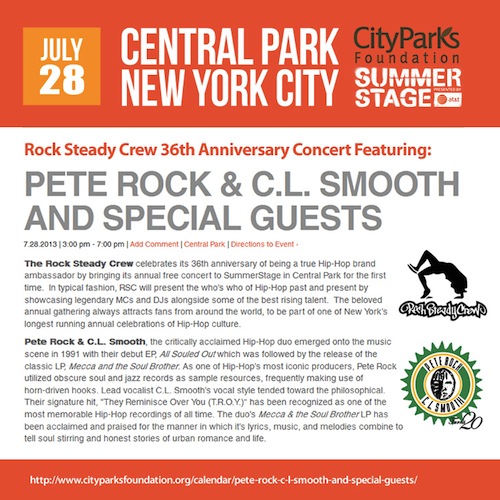 The Rock Steady Crew celebrates its 36th anniversary of being a true Hip-Hop brand ambassador by bringing its annual free concert to SummerStage in Central Park for the first time.  In typical fashion, RSC will present the who's who of Hip-Hop past and present by showcasing legendary MCs and DJs alongside some of the best rising talent.  The beloved annual gathering always attracts fans from around the world, to be part of one of New York's longest running annual celebrations of Hip-Hop culture.
Pete Rock & C.L. Smooth, the critically acclaimed Hip-Hop duo emerged onto the music scene in 1991 with their debut EP, All Souled Out which was followed by the release of the classic LP, Mecca and the Soul Brother. As one of Hip-Hop's most iconic producers, Pete Rock utilized obscure soul and jazz records as sample resources, frequently making use of horn-driven hooks. Lead vocalist C.L. Smooth's vocal style tended toward the philosophical. Their signature hit, "They Reminisce Over You (T.R.O.Y.)" has been recognized as one of the most memorable Hip-Hop recordings of all time. The duo's Mecca & the Soul Brother LP has been acclaimed and praised for the manner in which it's lyrics, music, and melodies combine to tell soul stirring and honest stories of urban romance and life.
Part of SummerStage's "This is __ Hip-Hop" series.
Cost: $FREE
Appropriate for: All Ages
RULES
SummerStage kindly reminds our patrons that in the interest of public safety the following items cannot be brought into the Central Park venue: glass bottles, cans, coolers, folding chairs, bicycles, rollerblades, skateboards, beach umbrellas, video cameras, tape recorders, professional camera gear or pets.  All bags are subject to search. Bringing alcoholic beverages into any NYC park is forbidden and the distribution or sale of unauthorized promotional materials is not allowed. Beer and wine are on sale at the Central Park venue for on­site consumption only.
Links:
http://crazylegsworkshop.com/component/content/article/46-events/189