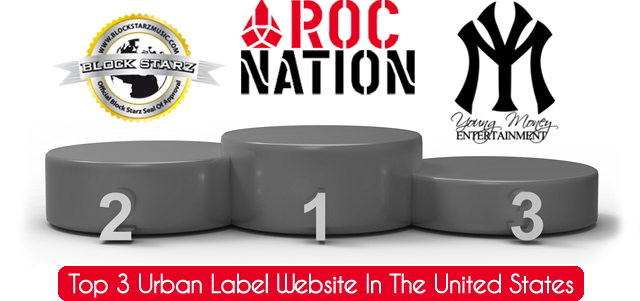 Roc Nation, Young Money & Block Starz Music Top Urban Label Websites In United States
According to statistics provided by web information company Alexa, www.alexa.com, German-American digital imprint Block Starz Music, www.blockstarzmusic.com, is the second most visited urban label website in the United States behind Roc Nation (Jay-Z, J. Cole, Rihanna) and placed before Young Money (Lil Wayne, Drake, Nicki Minaj).
"It just goes to show we're doing something right in terms of raising awareness about our brand, our artists, and their releases," says Block Starz Music President and Co-Founder Bayer Mack. "That is, and will always be, our main objective as a company."
A full service online music company founded in 2008 to scout, develop, and market new independent talent, Block Starz Music first made a name for itself as an early online distributor and promoter of platinum Atlantic Records artist Wiz Khalifa and recent Bad Boy/Interscope signee Machine Gun Kelly.
The small digital imprint made worldwide headlines in April 2011 after a widely-reported merger with Roc Nation and again in August after being served with a cease and desist letter from southern restaurant chain Waffle House over the debut single "After The Club" (formerly "Waffle House") by Block Starz artist J.R. Bricks. In September, the label announced the signing of YouTube sensation Lega-C, whose video "White Girl Raps Fast" has generated over 500,000 views since June.
Top 10 Urban Label Websites In The United States
1. Roc Nation — 57,735
2. Block Starz Music — 71,252
3. Young Money — 81,862
4. Def Jam Records — 129,517
5. Rostrum Records — 194,299
6. Cash Money Records — 224,632
7. Motown Records — 249,651
8. Grand Hustle — 276,032
9. Maybach Music — 434,172
10. Brick Squad — Not Ranked