New Remix Album From !llmind Is Upon Us Featuring Today's Hottest Artists, Four Exclusive Fortilive Tracks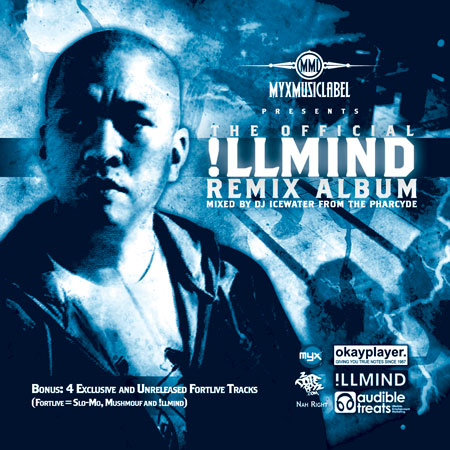 DOWNLOAD: !llmind – Official Remix Album
While some lucky fans were able to snag a free copy at select Rock The Bells dates the past few weeks, MYX Music Label, 2dopeboyz, NahRight, OkayPlayer, and Audible Treats are please to finally present !llmind's Official Remix Album. No stranger to making head nodding production, !llmind's latest effort showcases how he can flip any song and still shine as if he was the original producer. The official remix album is mixed by DJ Icewater (of The Pharcyde) and boasts 18 exclusive remixes featuring an eclectic array of artists from Common, 50 Cent, Jay-Z, The Roots, and Masta Ace to John Legend, Slum Village, and many more. Also included are four exclusive tracks from !llmind's own group, Fortilive (!llmind, Slo-Mo, and Mushmouf).
Musically, !llmind's Official Remix Album works perfectly to display the producer's skills. Each song smoothly transitions into the next while showcasing !llmind's ability to span a wide variety of musical genres. Common's "I Want You Remix" navigates from a scratch heavy intro to a melodic chorus with congas and guitar licks rounding out the beat, while the stabbing bassline and in-the-pocket drum programming of John Legend's "Ordinary People Remix" undoubtedly brings up J-Dilla nostalgia. While the The Official Remix Album features a number of mainstream aritsts, !llmind makes sure not to stray too far from hip-hop's roots, including the "Conflict Remix," featuring rhyme veterans Masta Ace and Guru of seminal rap group Gangstarr. The album ends with a bang – four bangs to be exact – as !llmind premiers a series of exclusive Fortilive tracks in anticipation of their forthcoming 2010-scheduled debut album.
The Background:
After growing up in New Jersey, Filipino-American hip hop producer !llmind made a name for himself competing in the Beat Society against some of the largest hip-hop acts of the day. After gaining his first placement on Akrobatik's "Remind My Soul," Little Brother, Supastition, 50 Cent, Eminem, Redman, Scarface, LL Cool J, Talib Kweli, Ghostface Killah, Strange Fruit Project, and more. His hip-hop group Fortilive mixes his production skills with emcees MushmoufSlo-Mo, both natives of Oahu, Hawaii. The group is signed to MYX Music Label, the same label that, along with NahRight, 2DopeBoyz, OkayPlayer, and Audible Treats is sponsoring !llmind's remix album. Featured on the remix collection are four new tracks from Fortilive.
About MYX Music:
MYX Music Label was founded in 2007 by industry veteran Karim Panni of the Boom Bap Project (Rhymesayers Entertainment). MYX Music Label is under the umbrella of MYX TV, which is the only music and lifestyle channel dedicated to the Asian American community. Distributed nationally, MYX TV showcases the hottest major label and independent content as well as dynamic original programming that fuses fashion, comedy, and culture. MYX Music Label integrates the newest technology while developing innovative digital distribution and promotion strategies to service their artists. The MYX Music Label was created for the sole purpose of using the MYX TV visual network platform to promote the finest independent hip-hop and urban music. MYX Music Label's ambitious release schedule for 2009 includes groundbreaking works from production duo Keelay & Zaire, D.Black, Jern Eye, and Kam Moye aka Supastition. Also, adding to their versatility as a label, MYX Music Label DVD releases include The Nutshack, Built From Skratch, Str8 Laced and Slanted Comedy, which features today's top Asian American comedians For more information on MYX Music Label, please visit
!llmind has worked with and produced for and