THE LEGACY: THE BEST OF BIG PUN (MUSIC FROM THE FILM)
SOUNDTRACK CD RELEASED SEPTEMBER 15th
ON LOUD/COLUMBIA/LEGACY
SAME DATE: BIG PUN – THE LEGACY, 93-MINUTE DOCUMENTARY DVD RELEASED BY VIVENDI UNIVERSAL
Also in the film: Never-before-released track by Big Pun, "BX NI**AZ"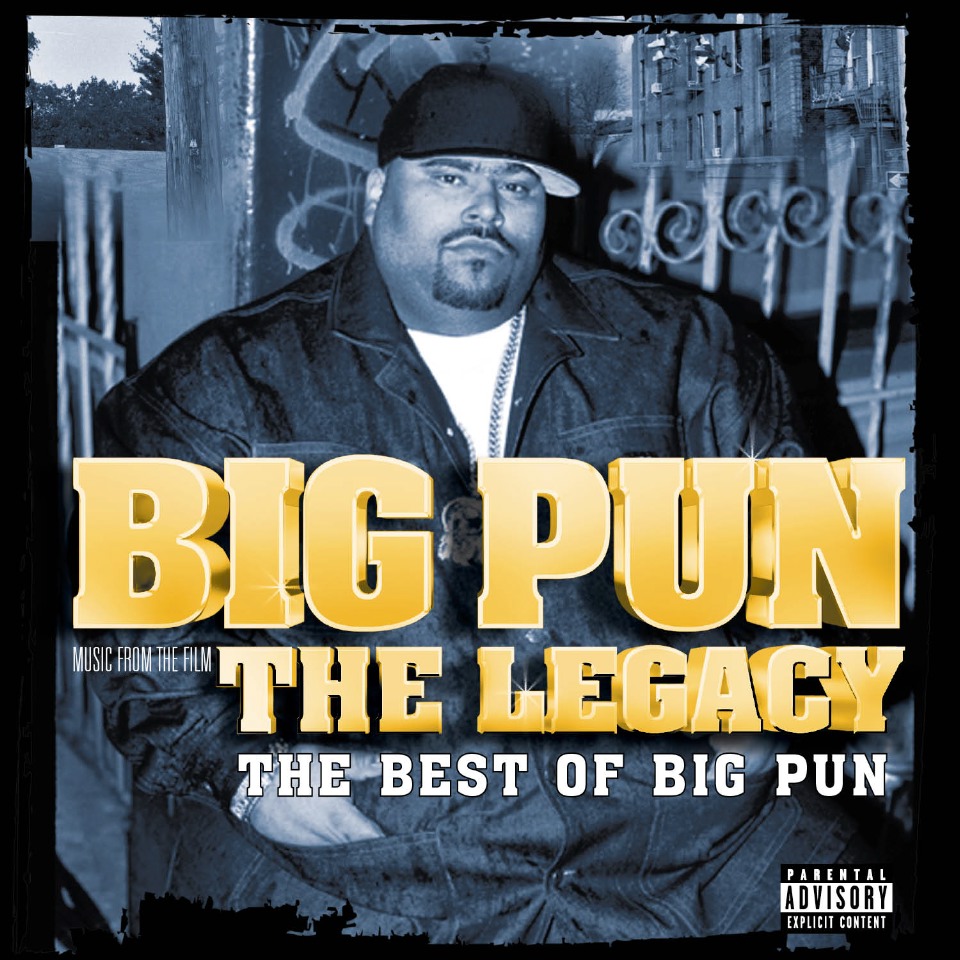 "Big Pun accomplished his goal by becoming the first Latino hip-hop artist to sell a million records. He was nominated for a Grammy after the release of his classic album Capital Punishment and earned respect from virtually everyone in the industry, appearing on tracks with Jennifer Lopez, Monica, Nas, Raekwon, Marc Anthony, Incubus and many more… Who knows how much more Pun would've accomplished and where his music would've taken him if it weren't for his untimely death."
-Vlad Yudin, director ofBig Pun: The Legacy, from his liner notes to The Legacy: The Best Of Big Pun (Music From The Film)
The all-too-brief big time recording career of South Bronx Latino hip-hop superhero Big Punisher (Christopher Rios, 1971-2000) began on the mixtape scene in 1995, when he joined his friend and patron Fat Joe on a handful of freestyle joints – and came to its sudden end five years later on February 7, 2000, when Pun succumbed to a heart attack (brought on by his 300-400 pounds girth), just two months before the release of his second album in April, Yeeeah Baby.
During those five years however, no rapper reigned more supreme than Big Pun, who enjoyed the distinction of being the first Latino hip-hop artist to reach the RIAA platinum certification plateau (with his debut album, 1998's Capital Punishment). In addition to his own releases, Pun was in constant demand and appeared on sides with (to name a few) Fat Joe (and other members of Joe's Terror Squad Entertainment crew), the Beatnuts, Veronica, Kool G Rap, and KRS-One, and of course Jennifer Lopez, whose Epic single "Feelin' So Good" (with Big Pun and Fat Joe) was issued the week before Pun's death.
In loving tribute to Pun – as the 10th anniversary of his death approaches next year – filmmaker Vlad Yudin has directed a 93-minute documentary feature on his life, Big Pun: The Legacy. The Vladar Company with Czar Productions will release the DVD of the film on September 15th, distributed by Vivendi Universal (a division of the Universal Music Group, UMG) and Polychrome Pictures.
On the same day (September 15th), the soundtrack CD THE LEGACY: THE BEST OF BIG PUN (MUSIC FROM THE FILM) will be available at all physical and digital retail outlets through Columbia/Legacy, a division of SONY MUSIC ENTERTAINMENT.
In the DVD, first-time director Yudin (who also wrote a liner notes essay for the CD) pays homage to one of the most influential rap voices of the '90s, with a non-stop program of never-before-seen concert footage and video that traces Pun's rise to stardom. There are interviews with the fellow hip-hop stars who knew him best – Snoop Dogg, Jim Jones, Swizz Beats, DMX, Method Man, Raekwon, Redman, XZIBIT, Bone Thugs-n-Harmony, Ghostface Killah, Prodigy, Styles P., B Real, Fredro Starr, DJ Enough, Sticky Fingaz, Chuck D, Jae Millz, Big Tigger, and many others. There are also interviews with Pun's widow Liza Rios and the estate.
In addition to a never-before-released track by Pun, "BX NI**AZ," the DVD of The Legacy also contains a number of bonus features. These include an exclusive interview with Big Pun himself; deleted scenes (with XZIBIT, Raekwon, and Snoop Dog); outtakes (with Swizz Beats, Method Man and Red Man, Jim Jones, and Keith Murray); and a "Making of the Film" segment (featuring interviews with director Yudin, producer Ed Mejia, Jose Aguilar and cinematographer Vitaly Acosta).
"While working on the film," Yudin writes, "I had a chance to take a journey through the life of an artist, to learn about him on a personal level and discover Pun as a human being – Christopher Rios. His undeniable talent and great music were equally matched by his character, will power, generosity towards friends and love for his family and kids. I hope that the fans will get a chance to remember their idol while watching the film and be reminded of his lyrical skills when listening to the soundtrack. All those who are not entirely familiar with his story, will get an opportunity to discover the legend – Big Pun, one of the most exceptional artists of our generation."
THE LEGACY soundtrack follows the film's direction and incorporates spoken word tracks along the way.
THE LEGACY: THE BEST OF BIG PUN (MUSIC FROM THE FILM)
SOUNDTRACK CD RELEASED SEPTEMBER 15th
ON LOUD/COLUMBIA/LEGACY